Adrian J Cotterill, Editor-in-Chief
Whilst we still believe that the most important technology for the digital signage and digital out of home industry sectors on display last week at #CES was Intel's WiDi HD wireless display technology the 'winner' in terms of sheer coolness, buzz generated and crowds wanting to go see it was on the Microsoft booth right across the hall from Intel's stand.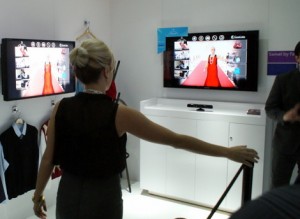 FaceCake Marketing Technologies MUST have received more column inches than anyone at the show (other perhaps than the OLED folks but we are convinced it would be a close-run-thing) and deservedly so.
FaceCake were the only non-Microsoft software company on the Microsoft booth (Corning's Gorilla glass were there as well mind) and were demonstrating a clever application built around Microsoft's motion sensing input device Kinect.
FaceCake's Swivel is effectively a virtual fitting room application which can be used in a retail store now (and there is a version coming by year's end that can be used at home by a consumer). As many others have said, it is by far the best Augmented Reality / virtual fitting room we have seen to date.
If you are at #NRF12 this week then you can still catch a glimpse of Swivel on the Microsoft stand.