Scala always do pretty good stands for ISE we think and they might just be moving their booth to the next level at #ISE2012 if everything they have announced comes off and goes to plan.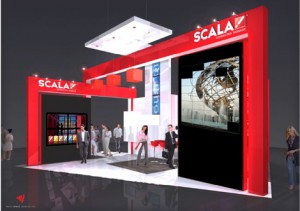 One of Scala's new (product) announcements is a new interactive screen communication solution that can be managed through a variety of consumer devices, such as a smart phone, iPad or tablet PC and they wil be using that on their on stand in Amsterdam for the very first time.
By scanning a QR code with their smart phone at Scala's booth K122 in Hall 10 visitors will be able to access a digital display management tool that allows them to choose from various information bundles and determine what is displayed on the playback screens at the stand.
With this new solution, digital signage viewers can determine which specific information they want to receive at that point and moment – allowing companies to micro-target messaging to individuals. Examples of how this technology can be used include customers in stores or banks, employees in a corporate building lobby, students in schools, patients in hospitals, guests in restaurants and more.
Visitors to Scala's ISE booth can use this interactive solution first hand with participants being entered into a drawing to win an iPad. Visitors will also test Scala's Twitter integration, see how interactive screens can transfer a great variety of targeted information and experience how picking up a product from a store shelf can trigger targeted product-related messaging on a screen.
Several of Scala's partners will showcase a range of digital signage technology at Scala's booth at this year's event: –
Sharp Electronics is Scala's official Display Partner at #ISE2012. Highlights at the show include Sharp's new 70" PNE702 digital signage display and 60" PNV602H high-brightness video wall panels
Christie will also be partnering with Scala and showcasing a unique and inspiring configuration of 35 MicroTiles with bespoke content
U-Touch will also be showcasing their new 19" and 22" touch totem kiosks, both of which feature U-Touch's brand new infrared true multi-touch technology – we are told that these small screen kiosks are ideal for point of sale, wayfinding, virtual reception and many other applications
Mdina Media will showcase Scala Embedded Certified players of the Q and E series and their New model: S8000 Nano-ITX (16 x 16 x 2 cm high), AMD Fusion 1.6 Dual Core, HD6310 graphic card. New E3000 Nano-size with AMD 785E chipset, dual core, low power consumption
MediaVue will be presenting its full line of ultra-high reliability player PC's and showcasing the SureVue D4, which has become one of the preferred Scala solutions for video walls, digital menu boards or any deployment with multiple screens per location
IAdea will demonstrate the industry's first media appliance to support the HTML5 open content standard
Step4Media will be presenting TelemediaVision, its turnkey digital menu board solution

 

A high-quality 35 square meters digital screen, complete with sound capability, mounted on a trailer unit for easy transportation will be shown by Maritime Media Services outside, at the entrance of RAI Amsterdam
Scala's new CEO Tom Nix told us "For 25 years, organizations ranging from retail and quick service restaurants to corporate communications, banks, hospitals and education have seen the flexibility and benefits of communicating using Scala's digital communication."
He added "Combining this know-how with our latest developments, I am convinced we can find new ways to help companies to quickly engage and inform their audiences. Many organizations are challenged to find innovative ways to deliver valuable content to target audiences in the short bursts of time available"
"Scala not only provides a strong, highly usable, incredibly stable software platform that meets 95 percent of the needs of most customers out of the box, it can also be easily customized well beyond many competitive offerings. If end-users or integrators have a question, any question, relating to digital communication, Scala can put them on the right track to cost-effective digital communication solutions!" said Nix.