Gail Chiasson, North American Editor
Uma information technology has installed the first semantic multitouch wall in North America at the 109th American International Toy Fair, owned and operated by the Toy Industry Association, running from Feb. 12-15 in New York.
The 'Fair Necessities' interactive wall, comprised of the company's uma SKIN (Semantic Knowledge Information Network) product, enables multiple users to access the 2.4 meter wall at the Jacob Javits Center in New York, pulling down information on exhibitor listings, product videos, news clips and other content.
Toy Fair's app developers are also showcasing their work on the Fair Necessities wall, which turns show data into useful, fun, hands-on tools for the 30,000+ guests in attendance at Toy Fair.
The LCD multitouch display screen "acts as an interactive gateway to all things Toy Fair," says Kimberly Carcone, senior director of trade show and event marketing at TIA. "With the tap of a finger, multiple users are able to simultaneously access floor plans, event schedules, exhibitor listings, photos, videos and news clips, Apps and more on the huge touch screens."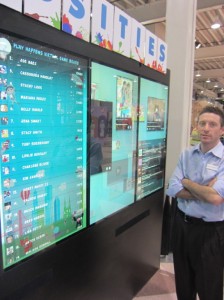 The Fair Necessities wall is the latest in a steady stream of technology innovations introduced at Toy Fair, which annually attracts upwards of 20,000 worldwide retailers, wholesalers, importers, licensors, buying groups and trade guests and 1,050 exhibiting companies, to New York City.
The display is situated in the main concourse of the Jacob K. Javits Convention Center during the four-day show. Toy Fair 2012 exhibitors who include their listing on the wall are touched by buyers and others who are at the show to scope out more than 100,000 hot new toys and play products on display.
The technology for Fair Necessities was developed by uma information technology in partnership with Intel Corp..