Advantech will release a graphics digital signage media player ARK-DS306 at #ISE2012. The compact player is powered by an AMD Embedded G-Series APU with the AMD A50M Fusion Controller Hub system chipset, and provides a power-efficient platform for high-performance multi-media content delivery. Based on this new APU platform, ARK-DS306 offers an outstanding visual experience with full multi-media capability, while maintaining very low power consumption.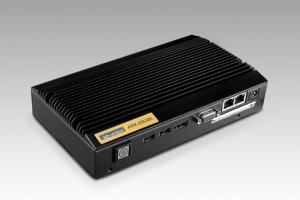 ARK-DS306 is powered by either a dual-core AMD Embedded G-Series APU, model G-T40N at 1.0GHz or the single-core model G-T44R at 1.2 GHz, and also option of low power dual core model G-T40E at 1.0 GHz or the single-core model G-T40R 1.0 GHz paired with the AMD A50M FCH system chipset and 1 x DDR3 memory support up to 4 GB. The AMD Embedded G-Series APU features a very low 9-watt Thermal Design Power (TDP) and enables a fanless design.
ARK-DS306 will be available in the middle of March in Europe.
The company has also announced that, together with Philips Public Signage, they will be launching their Open Pluggable Specification (OPS) digital signage products, with a special offer for ISE.