Gail Chiasson, North American Editor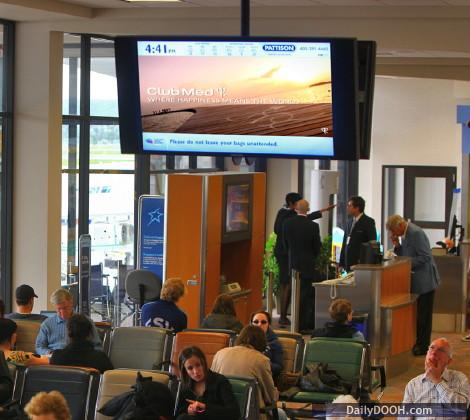 Club Med recently introduced its new look at Calgary International Airport.
While digital screens are a prominent part of the Club Med campaign, the vacation club actually dominates the entire airport, starting in the ticketing area with two wall murals modified to include Club Med brochures and carries through to the departure gates with decals on the moving sidewalk, windows and column wraps. Club Med used Pattison's digital advertising network, YYC-TV, by incorporating its message into 15-second ads airing continuously throughout the departure area.
The airport venue effectively displays the design and attitude of the luscious and inviting imagery that stimulates the senses and portrays the unique appeal of what Club Med can provide to its clientele.
Pattison Outdoor worked hand-in-hand with Club Med and media agency Carat Montreal to develop this first domination program at the airport.
As of Q3 2008, the total number of all passengers for domestic, international and transborder travel in the Calgary Airport increased 12% over 2006. In this same period, passenger statistics for domestic travel mirrored this type of growth. However, passenger statistics for international travel increased 29% for the same period which bodes extremely well for Club Med's newest campaign.