Adrian J Cotterill, Editor-in-Chief
Paradigm AV Ltd is making a radical departure from its usual presence at #ISE2012 this year, as an indicator of major advances made during 2011 and (we are told) all set to continue in 2012.
This year's Amsterdam show will mark the launch of a major new product line and a new major new distributorship and (if this picture below is anything to go by) what could be one of the best-in-show product launches…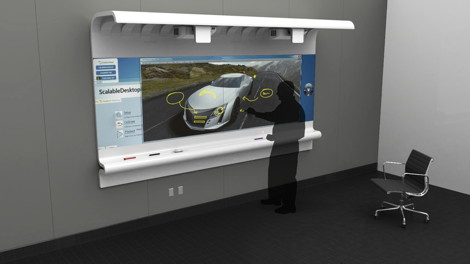 The Paradigm Display Wall is a unified display product range based around Scalable Display Technologies' products for automatic alignment, blending, warping and colour calibration of projected images.
It comprises a large screen mega-pixel interactive display that sits on the network as a unique, powerful and interactive device. Delivering the mega pixels is achieved via soft-edge blending of standard ultra-short-throw (UST) projectors—typically two or three—to create a wide, ultra high resolution display. The Scalable software suite resides on a networkable server and has image capture cards to allow use of videoconferencing, plus connection of multiple computers and video devices. The server is completely configurable to each installation's specific needs.
 
Although Paradigm will be distributing complete kits, resellers will also have the option of just buying Scalable software licences and creating all or some of the solution themselves.
 
Paradigm's wholly-owned subsidiary Simulation Displays Ltd will be handling the marketing of Scalable's products into the simulation and reality markets. Henry van der Helm, new signing as their Business Development Manager, will be at the booth. Henry is an acknowledged expert on high level projection, warping and blending, simulation and reality and will be there to meet existing and potential clients at the show.
 
The product range is based around best practices and research-based knowledge on displays which deliver high-resolution and interactive displays that are scaled to, and configured for, each specific environment they are installed in. Future options will include curved screens and transportable/deployable options.
Paradigm's Managing Director Greg Jeffreys told us "The development of this new product with our partners from Scalable Display Technologies has allowed us to realise many ambitions we have had to offer a cost-effective way of using commercial off-the-shelf (COTS) components to deliver advanced display solutions. I believe this will be a real showstopper for consultants and specifiers who are looking to make a step change forwards in 2012 in their clients' display needs. It's just the right balance between leading edge rather than bleeding edge!"
 
Of equal significance is the market launch of Paradigm's partnership with and distribution of Scalable Display Technologies' range of software-based products. Already one of the market leaders in automatic alignment of multi-projector arrays onto curved and cylindrical screens within the simulation and reality markets, the launch at #ISE2012 sees the definitive move into the business-to-business (B2B) markets.
Scalable's CEO, Andrew 'Drew' Jamison said "Paradigm has taken a proactive stance in the market by offering tightly integrated solutions based upon our ScalableDesktop product line.  The use of our software products in the B2B world offers a myriad of advantages and we are pleased that Paradigm plans to offer application specific vertical market packages. We are delighted to have Paradigm join our network of distributors in EMEA."