Gail Chiasson, North American Editor
Do you wish your had an iPad, an Android phone, an Amazon Fire or an HDTV?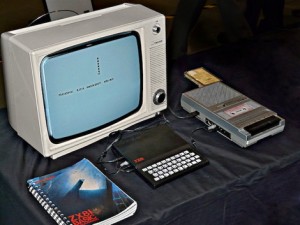 An interesting – and rather fun – survey, by digital media company Captivate Network, Chelmsford, Massachusetts, has just been released: the latest Captivate Office Pulse asked more than 580 North American white‐collar workers about their attitudes toward high tech devices.
Of the total respondents. 73% identified smartphones, tablets, e-readers and HDTVs as their favorites and 30% reported being 'very envious' of the devices their colleagues brought into the workplace. The Captivate Office Pulse also identified the most envious people in the workplac: 60% of those displaying tech envy are working moms who are more than 30 years old with annual household incomes of less than $125,000.
"With the prevalence of personal technology around the office, and the high frequency that it's shared – 40% reported regularly seeing co‐workers using tech devices – it's not surprising that tech envy occurs," says Scott Marden, research director at Captivate Network. "Overall, we found that professionals want what they don't have – whether it's an upgrade to an existing device or the next new technology."
Among respondents, 30% reported being very envious of the technology their colleagues have and they do not. However, rather than wishing people would be quiet about their new acquisitions, 35% of people would like to hear and see more.
Things are similar when it comes to technology owned by friends/family, with 26% responding they are envious of others' devices and 39% saying they would like to see and hear more.
People are exposed to more technology in the workplace – and reported higher levels – than with friends/family. Regardless of location, many people want to learn more about the devices they see others using.
"With CES wrapped up and a host of new tech toys in people's hands following the holidays, we also thought it was a good time to look into people's general attitudes toward consumer technology," says Marden. "Not only do the results of this Office Pulse provide a glimpse into what devices people have and love, but it also lets us know what they wish they had."
When asked to name their favorite technology, 73% of respondents named the following four devices: smartphones (43%), tablets (15%), e-readers (8%) and HDTVs (7%). While smartphones are the most popular devices among all groups, there were differences in device preference based on income, age and gender. Affluents, for example, are most fond of tablets, while women like e-readers far more than men.
When it comes to the devices people want, 54% identified the following: tablets (32%), smartphones (12%), e-readers (6%) and HDTVs (4%).
While there are many areas of similarity in terms of the devices people have and those they want, there are differences in where people use their devices. And lthough there are a growing number of tablet and smartphone brands to choose from, Apple products were the most desired. For HDTVs and e-readers, Samsung and Kindle were named most, respectively, followed by Sony (for TVs) and Nook (for e-readers).
Among the top brands desired by adults in each category are – tablets: iPad 80%; smart phones: iPhone 73%; E‐reader: Kindle 60%; HDTVs Samsung 25%
"Our Office Pulse studies continue to demonstrate the influence that co-workers have on each other," says Marden. "People love their technology: they carry devices with them; they talk about and share them; want to learn more about them – and this interest, in many cases, induces a new purchase."
The Office Pulse is an ongoing research initiative that offers timely analysis and insights that help a variety of audiences – particularly marketers – make better business decisions. Captivate commissioned MarketTools, the leader in software and services for Enterprise Feedback Management and Market Research to build and manage the panel across Captivate's footprint of 1,000+ class A office buildings. The panel, consisting of 4,000+ white-collar professionals, is the source for workplace behavior and advertising communications measurement for dozens of Fortune 500 companies and their agency partners.