Adrian J Cotterill, Editor-in-Chief
"Viking, North Utsire, South Utsire, Forties, Fisher, Fair Isle …"
If like us you are heading out to Amsterdam for #ISE2012 this weekend (or more likely for most of you on Monday) then check and double check the weather before you head out as it looks like parts of Europe are heading for a big freeze.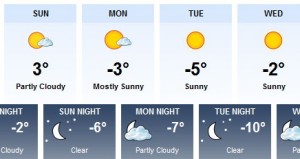 At our age trying to remember these things is difficult but didn't it snow in Amsterdam at exactly this time last year and the year before?
One year in the past three, Britain got hit so hard by a (light) snowstorm that all travel to the big-island-thing across the water called 'Europe' (yes we know it's 'continental europe') was all but cutoff.
I can vaguely remember at the DOOH Business Conference (the first year it happened, before the invidis clowns got involved and it was renamed DiSCO) hastily helping the organisers re-shuffle the agenda as speakers (and attendees) either arrived late or not at all.
Dunkirk spirit. Fun times! So anyway. weather wise you have been warned, Be prepared!