The Canadian Youth Business Foundation is running a national awareness campaign with Fokus Media [1] intended to encourage students in Canadian colleges and universities to start their own businesses.
Fokus Media is the leading digital media company across Canadian colleges and universities. Its flagship product NEX is an innovative out-of-home medium that combines static, Internet and digital advertising fused together in one dynamic communication kiosk.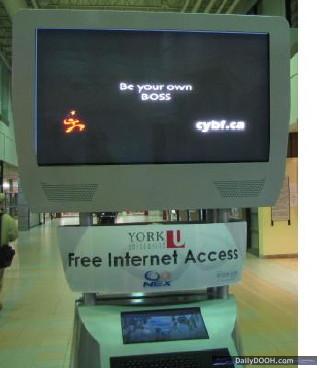 [2]
Through its national network of state-of-the-art kiosks and digital screens, Fokus provides CYBF with a unique opportunity to communicate to a 17-26 age group across Canadian college and university campuses.
"Thanks to Fokus Media's network with its state-of-the-art plasma screens and Internet kiosks, CYBF will attract, encourage and guide more students, with great business ideas, to launch and sustain a successful business once they graduate from school," says Vivian Prokop, CEO, CYBF. "This in turn will help to drive the economic prosperity of Canadian communities, coast to coast."
The campaign consists of a million-plus showings on 54 digital screens and a splash page appearing on 29 interactive kiosks in 25 colleges and universities across Canada. The campaign, which began in November and runs to March, is expected to reach almost half a million post-secondary students with over 10 million screen and splash page impressions.
CYBF is a national charity dedicated to growing Canada's economy one young entrepreneur at a time. It looks at character, not collateral, when providing youth (18-34) with pre-launch coaching, business resources, start-up financing and mentoring, to help them launch and sustain a successful entrepreneurial business. Founded in 1996, CYBF has invested to date in more than 2,700 young entrepreneurs, whose businesses have generated more than $290 million in sales revenue and created more than 14,000 new jobs. Through CYBF's national network of community partners, it delivers its program with more than 2,500 volunteers right across Canada.