Christie we believe, who exhibit 40+ times a year, are totally re-thinking their stand designs in EMEA, so the nice looking stands visitors saw at #ISE2012 this week might be the last in that particular style.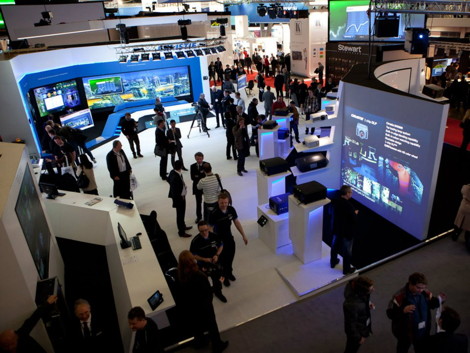 [1]
Taking some of the best design elements of award-winning showcases it has shown around the globe in 2011 and integrating them into a single concept Christie had a whole suite of products and solutions on display for the first time at #ISE2012 from adjacent large-scale, two-tier booths (Hall 1, Stand H27 and H40).
The stands included the largest Christie MicroTiles display wall seen yet at a trade show, a well defined broadcast area, an entire section showcasing entry level projectors, and a dedicated cinema function showing state-of-the-art Christie Solaria 4K DLP Cinema digital projection.
Dale Miller, EMEA Vice President, Christie told us
"For any visitors interested in projection — irrespective of the application — the Christie stand was a must visit"
– no surprise really since it featured the largest range of signature products and visual solutions in the industry (projectors ranging from 4,200 to 35,000 lumens output, from XGA to 4K resolution, and with 2D and 3D capability).
MicroTiles featured heavily with the impressive 21 x 6 wall, the Skyscraper, the Digital Bookshelf, the Digital Bookcase, the Digital Dashboard and the Triptych shape.
 
Christie's 'Broadcast Set' featured interactive MicroTiles (using we believe the multi-touch Interactivity Kit) and a pair of M Series devices offering a rear projection blend.
The Christie Interactivity Kit is interesting – it's a modular frame that attaches around the perimeter of a planar surface to create an interactive touch screen, as a touch interface natively, meaning that touch events are processed in a similar way to a mouse device.
The Interactivity Kit, which was presented as a technical preview this week allows multiple users to interact simultaneously with a rectangular video wall with sufficient resolution and speed to seamlessly support all common finger-based gestures, such as pinching, flicking, rotating and scrolling.
Lastly the Christie control room solution include the Entero LED video wall solution along with (even more) MicroTiles and the latest FHD551-X backlit LED panels, launched in September last year.
All photos: Copyright: Axel J. Scherer