Adrian J Cotterill, Editor-in-Chief
ComQi have just announced "New funding to support expansion of in-venue messaging to mobile experiences and Connected displays"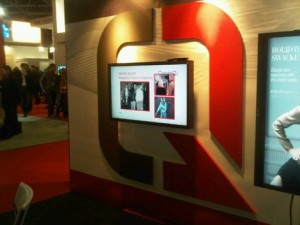 The press release states that the 'global in-venue multichannel message management company' has raised additional funding from its investors as well as a new credit facility of USD 3 million from Square 1 Bank, a diversified financial services company for entrepreneurs and the venture capital community.
We are told that the new funding will be used to further develop ComQi's multi-channel mobile platform, enhancing its streaming distribution products to leverage the growth of IP Connected displays in the marketplace and continuing to expand its distribution reach.
 
Ajay Chowdhury, ComQi's CEO told us at #ISE2012 "We are very pleased to receive this new investment which allows us to continue our rapid growth and continue to develop products to suit our customers' needs in this rapidly developing market. With their flexibility and attention, we truly received a unique banking experience with Square 1 Bank. They listened to our needs and supplied a creative and customized term sheet that met the strategic goals of our company,"
Brad Ellis, SVP and Managing Director of Square 1 Bank's Venture Banking division was quoted as saying "ComQi is developing some unique multi-channel message management products for the rapidly growing out of home signage and messaging market. We look forward to further supporting the developments of the company."
We understand that all of ComQi's existing investors – Jerusalem Venture Partners (JVP), Wellington Partners, Amadeus Capital Partners and Aviv Ventures – participated in the new funding round.