Gail Chiasson, North American Editor
Would it be that everyone was so dedicated to education as Alan Brawn, the new chairman of the Digital Signage Federation, now numbering close to 500 members!
Brawn, who at 66 says that he intends to help educate the digital signage industry "until I'm taken off to that big place in the sky", has been a member of DSF since it's founding two years ago and recently moved up from his position as vice-chairman as per DSF election rules.
Education is a natural to this former college professor whose Vista, California-based Brawn Consulting has been instrumental in developing courses in many business areas involving the audiovisual industry.
For the digital signage industry, Brawn has created the Digital Signage Certified Experts Group course; the Digital Signage Display Experts certification; the Digital Networks Experts certification; and later this year will launch the Digital Signage Media Content certification and the Digital Signage Installation and Integration certification, all offered to DSF members.
DSF members include manufacturers, distributors, consultants, integrators, netwrk operators, content creators, advertising agencies, content aggregators, and end users – and Brawn wants them all to be at the top of their game.
"I have two aims: to take care of my family (which includes son Jonathan, who also gives DS industry courses.) and to take care of the digital signage industry," Brawn says. "I spend 50% of my time working with clients and 50% volunteering in various ways to help help the industry."
Volunteer, he does. In fact, he was given the Harald Thiel Volunteer of the Year Award last year by InfoComm International, the professional audiovisual trade association.
After having taught for several years at Southern Illinois University and two junior colleges, Brawn spent two decades working with the A/V industry, initially at Hughes-JVC and then in the positions of national business development manager and head of national products marketing at the Pro AV Group at Samsung Electronics, and as president of Telanetix before founding Brawn Consulting. (He' s still very keen on Samsung and says the he "can't wait to get my hands on the new Samsung Galaxy Note. with its larger screen than the iPhone but smaller than a tablet. It will be better for my eyes and has better sound for my hearing. I think it's going to go far in the market.")
While A/V holds a big place in his heart, digital signage is definitely his focus today.
"Digital Signage is fun, it's a hoot," he says. "And volunteering in it is my hobby."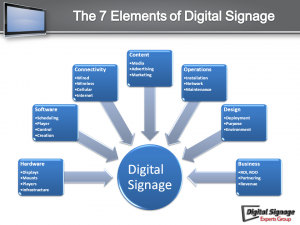 The impetus behind his development of learning courses: "I got tired of going to hear speeches to learn something, and the speakers were spending 80% to 90% of their time giving company sales pitches and only 10% or 20% of their time giving nuggets of real information that people could learn from. And I got tired of hearing about the seven key elements of digital signage."
Brawn has not only set up the certification courses, but also was instrumental in developing DSF's numerous webinars for learning. And his involvement in the academic sector hasn't wained. He wants to see courses in the digital signage sector at all colleges and universities and has already got that ball rolling at Texas State Technical College which already has a DSF chapter and graduated 11 people this year. (Students get scholarships to cover their membership in DSF.)
"I hope to see the set up and establishment of National Educational Standards with solid course outlines and then talk to all the educational accreditation organizations in all the states across the U.S.," he says. 'We have to get the message out and make it a reality. We have to make this an industry with solid fundamentals. We have to create standards. The DSF is focusing on education, on standards, on certification."
Brawn is also excited about DSF working with members of the International Sign Association whose members are more and more getting involved in digital signs for their clients.
"We have a name for that: Dynamic Digital Signage," says Brawn. "If the DSF can help ISA members in that regard, it will be good for all."
"Knowledge is strength," he says. DSF is the official industry association of Digital Signage Expo and vice-versa: DSE is the official trade show and conferences of the DSF. "When the Digital Retail Expo evolved into the DSE, I saw what it could be in terms of education, information sharing and conduct."
"Alan is selfless and sharing," says Geri Wolff, the DSF head of marketing and communication. "In our first year, Rich Cooley was the right chairman for formulating the organization. Last year, Bob Stowe (now past-chairman) was the right person to help us get all our ducks in a row. And Alan is the right person this year for what we've become and what we want to be."
"DSE has evolved," says Brawn. "The first years we were creating committees and gradually developed privacy standards, ethical standards. Now, fortunately, we're at the stage where we can drill down into the details, with more certifications and national educational offerings."
We asked Brawn if the huge attention being paid to mobile these days is drawing attention away from digital signage.
"No way," he says. "Mobile and social will extend what we do. We need interactivity, touch screens, walls. Mobile adds to it sll."
We also discussed something fairy new on the DSF website: the VIP Service, ie. the Vendor Information Proposal Service that allows anyone considering putting in or needing advice on digital signage to fill out some basic questions such as 'Which of the following best describes your project's needs?', 'Do you have a budget?', 'What time frame are you looking for?' and the information will go out to either all members or those specific to the person's requirements. (eg. There's no use sending installers information from someone looking for creative content,)
"It's being used but we really have to publicize it as a basic service," says Brawn. "It's an opportunity to share information" – and presumably also for members of the industry to gain new business.
"We don't want to be an organization up in the clouds," he says. "We're open to all, and we do a gut check at every Board of directors meeting to be sure we're following what we set out to do. We're constantly making improvements but the big issue is getting the word out about things like the VIP Service."
And no clouds, "I'll never retire. I want see solid National Educational Standards set before I take off for the sky."