Gail Chiasson, North American Editor
"Our primary goal at Digital Signage Expo is to bring to every attendee something they didn't know before," says Chris Gibbs, president and co-founder of Exponation LLC, producer of #dse2012 taking place March 6-8 at the Las Vegas Convention Center.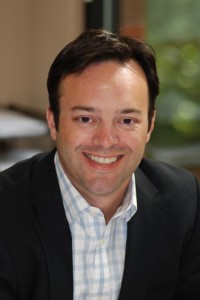 "That means helping the beginner learn, helping the smaller operators reach the next level, and helping the well-established to see what's new and where the industry is going next."
DSE in 2011 had 3,614 attendees and 195 exhibitors, and Gibbs is expecting about the same this year. Like most show managers we talk to, he's reluctant to forecast numbers ahead of time, and with the U.S. economy still in a slow state of recovery and it being an election year – both constraining capital investment in the industry – he's not about to shout "Yipee!" ahead of time.
Nevertheless, the combination of a more finely tuned group of educational and informational sessions combined with an exhibition area seen as The place to be – witness, for example, the larger spaces taken by such companies as Scala and Planar than in previous years – Gibbs is forecasting a great show.
Gibbs is no rookie at putting together an exhibit. With a background in IT consultancy and recruitment, he co-founded Exponation in 2002 with his wife Danielle, who, as a manager, had been involved in the lighting industry, and Angelo Varrone who, as part of Shore Varrone, had founded GlobalShop (since sold). Their first show was Lightshow West (still in existence) in 2003, and he's been putting together shows since. He originally handled the sales side of the picture, but as the company grew with the Digital Retailing Expo in 2004 in San Francisco, then in 2005 in Chicago, and then renaming and refocusing the show as Digital Signage Expo in Las Vegas, it has been a growing and learning experience for him as well. (The company now has 15 employees.)
This year, so far, we know we have 29 new exhibitors, and we're still selling space," Gibbs says. " There will be a range of new products being shown (at least 16). And we know that there will a number of exhibitors making announcements at the show. Among them, Intel is expected to announce something with the Wow! factor.
"We've also developed a special section devoted to content and we expect some whiz-bang things there. And, in general, we expect to see more touch interaction displays this year."
Gibbs says that the APEX and Content Awards have each garnered a record number of entries and that the Wednesday evening Awards Dinner is shaping up nicely. New this year: best-of-the-best awards will be chosen from among the gold award winners in each of the APEX and Content categories.
"Although it seems like a lot of learning sessions, we've actually cut back a a little on some," says Gibbs. "This year we have 32 sessions whereas we had 40 last year. And we've added five new (mainly half-day) educational sessions on March 6. They include: Digital Signage 360: A Global Perspective (arranged by DailyDOOH); Near Field Communication: Changing the Digital Signage Value Proposition; Digital Signage in Transportation; Hands-On Content Workshop; and Mobile Models You Can Believe In."
Also new this year are 40 'Industry Vertical Discussion Groups', to be held in closed-off areas near the show floor. These (20 per day) will each have a specific focus with a maximum of 18 people around a table plus a moderator, where people involved in a particular sector can discuss and trade ideas on a particular topic. For example, representatives of universities might attend the Education discussion group and discuss integration of digital signage of campuses. These discussion groups cover a wide range of topics such as: banking and finance; public spaces; government; hotels and casinos, and many more. (Some may be duplicated because of expected heavy interest.)
"Since these are limited seating for first-come-first-served, we're urging people to enroll quickly if they want to participate," says Gibbs. "We've found that people want to learn so our educational component continues to grow. But people also want to see, touch and feel for the 'Ah ha!' moment on how something will work in their case, so it's important to be out of the trade show floor as well."
Gibbs says that DSE is spending a lot of effort on marketing this year, especially to the 'non-choir' – those who aren't among the leaders or industry insiders, dubbed 'the choir'.
"We want to reach all those who are interested in getting into digital signage in one way or another, or who are into it is a smaller way and looking to grow. We want to bring them for knowledge, ideas, innovation, new applications. And, naturally, we want all the bigger players as well. They all can find something among the new innovations, ideas and learning experiences of others.
"I think keynotes will set the tone for the show," he says. "Myself, I'm really looking forward to hearing the futurist John Underkoffler, chief scientist, Oblong Industries."
By the Digital Signage Federation being the official industry association of Digital Signage Expo, and DSE being the official trade show and conferences of the DSF, "I think it's helping the industry to grow," says Gibbs. "The DSF, of course, financially benefits, and we provide it with exhibition space. And DSF helps people understand how we want the industry to grow."
Gibbs says that the economy is still tough, and "While the digital signage industry is strong, it has lots of room for growth. It's not yet where it should be. More capital must be freed up to help it prosper."