Interesting campaign up soon on some digital billboards in the UK. Primarily targeting in-car and roadside audiences the campaign includes a 'Now Playing' live feed using RSS to indicate the artist that is currently playing live on Absolute Radio [1].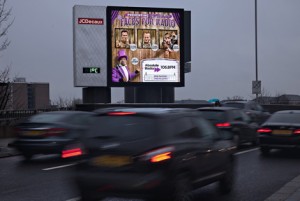 [2]The campaign was planned and booked with JCDecaux, Clear Channel and Primesight by MEC and Kinetic, with creative by Albion.
The 'Faces for Radio' creative, designed by Absolute Radio's retained marketing agency Albion London, showcases the station's flagship DJ's: Christian O'Connell, Frank Skinner and Dave Gorman as well as featuring Rock 'N' Roll Football host Ian Wright and Hometime Show's Geoff Lloyd.
'Faces for Radio' gets its digital launch on 13th February.