Gail Chiasson, North American Editor
The newly renovated Lillehammer train station, opened recently and expected to be the model for all 400 existing stations in Norway, features 16 LCD displays, powered by Concord, Ontario's Omnivex Moxie Software.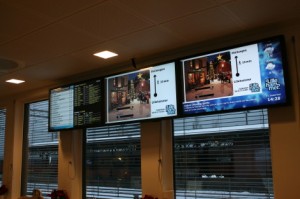 Omnivex Moxie provides users with a powerful and flexible software platform for managing their digital signage needs.
The Norwegian displays provide bus and train schedules along with other local information. A driving factor behind the installation was the need to improve accessibility for those with disabilities, and this has been achieved through the use interactive displays which support communication for the hearing and vision impaired.
The project was developed and implemented by Rom Eiendom AS, one of the largest property companies in Norway, with support from local systems integrator, Hatteland Solutions.
"Our goal has been that Lillehammer would be the most modern and contemporary public transport hub," says Paul Berger, CEO, Rom Eiendom.
The modern coaching facility coves all the needs of future travelers when it comes to waiting rooms, information, services and accommodation. Geir Ove Finstad from Hatteland Solutions has been working with Rom Eiendom to identify the best technologies for future transportation hubs since 2009.
"This project has proven again that with the right technology you can remove barriers and make accessibility equal for everyone" says Finstad.