Gail Chiasson, North American Editor
If you are a retailer today, chances are that you want to know how to integrate all the new media into transmitting one concise brand message.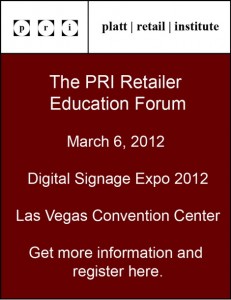 If you are attending #dse2012 the Retailer Education Forum, being presented by the Platt Research Institute from 12:30 to 5:30 March 6. is the session geared especially for you.
Coordinated and co-moderated by Margot Myers, PRI's director of education and training, and Steven Platt, PRI president, this session is focused at integrating digital signage across multiple platforms.
"It's difficult to do, but needed, along with the accompanying data analytics," says Myers.
"Retailers are faced with this and how to do something with it and how to change their approach because of it. Technology is becoming critical for retailers, and they are finding it difficult to manage."
With that in mind a solid program has been lined up that includes sessions on:
Cross-Channel Retailing;
Intelligent Digital Signage Solutions in Retail;
Leveraging In-store Technology;
Interactive Case Study Learning Session;
EU Retail Trends;
Selling Digital Signage Retail Media Channels.
The first session should get the program off to a great start with two speakers in quite diverse business sectors sharing the stage: Algernon Callier, vice-president, strategic innovation and emerging technology, Universal Orlando Resort, and Dave Finnegan, CIO, Build-A-Bear Workshop Inc..
Along with exploring innovative and emerging technologies and their business applications, one of the may responsibilities of Callier is leading a cross-functional Innovation Task Force focused on identifying leading technology trends, activating their application, and delivering tactical solutions. For his part, Finnegan oversaw the launch of the Build-A-Bear Workshop virtual world and entertainment destination, Bearville.com – an extension of the company's in-store experience with enhanced games, imagination, education and learning for kids of all ages. The two will discuss such points as interacting with the brand across multiple channels and how to manage the consistent brand message.
One of the most interesting panels of the afternoon is expected to be that moderated by Barton Weitz, holder of the JCPenney Eminent Scholar Chair in Retail Management at the University of Florida. Prior to DSE, all those attendees registered for the Retailer Education Forum will be emailed a copy of a case regarding a hypothetical retailer. The panel of speakers will discuss it, but mainly, the session will be a wide-open forum where attendees can ask questions and trade ideas with the panelists and across the floor.
The entire afternoon will have a distinguished group of both individual speakers and panelists, in addition to those mentioned above, from: AT&T Mobility IT; Broadview Advisors; Intel;PRI; Safeway; Metro Systems GmbH (Germany); Best Buy; and Starcom Worldwide.
If you are a retailer and haven't yet registered for this session, we urge you to do so quickly. You can register here.