Adrian J Cotterill, Editor-in-Chief
The same day we wrote 'Biggest Screen To Date For @ramvision' one of our regular stringers sent us this picture of the Ram Vision network in Lakeside…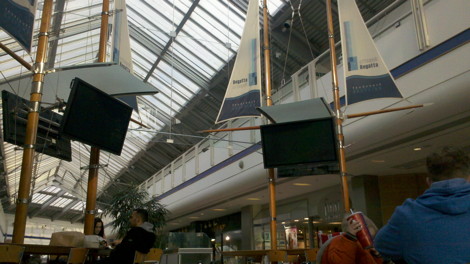 Adrian Hopper from RAM Vision was quick to get on email and explain, he told us "I can confirm that early Friday morning our network of screens in Lakeside experienced downtime due to a fire alarm test which caused an outage on the electrical supply to our media player".
He added "Broadsign immediately identified that the media player was missing in action and our first line support team, in conjunction with the centres operational team, ascertained that it would require an out of hours engineers visit to assess the player and replace if necessary. This was completed on Friday evening and the centre's network was signed off as fully operational this morning before the centre opened (Saturday)".
He summed up "Whilst clearly we are not happy that we lost a day's worth of airtime in one of the most prestigious shopping destinations in the UK, our ability to identify and resolve the problem within a 12 hour turnaround period is reflective of the level of investment the business has made in ensuring these downtimes are one-offs and are managed correctly with all parties involved".
These 'failures' do not seem to be one-offs mind – we are only in February but since Christmas we have already written about downtime at The Oracle (Reading) over the New Year period (via twitter, and that was one complete half of a network) and only a few weeks ago with regard Clapham Shop stop (all screens off though the amount of down time is disputed – see post).