Adrian J Cotterill, Editor-in-Chief
Valentine's day, our marriage announcement, the snow finally disappearing and the office copy of MONOCLE magazine being delivered all went to make Tuesday a very special day (in our hearts).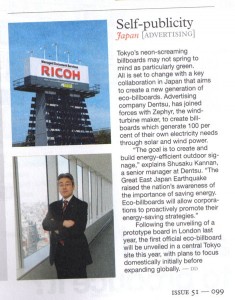 We've made mention before of the Ricoh billboard powered only by wind and solar energy (actually it's a backlit poster but the idea has merit) but on page 99 issue 51 of MONOCLE we read about Dentsu (the world's largest single-brand agency) teaming up with Zephyr (a wind turbine maker) to "create billboards which generate 100 per cent of their own electricity needs through solar and wind power".
The article (shown to the left here) makes mention of the prototype board in London (which we wrote about here back in June 2011).
It also makes mention of the first official eco-board which will be unveiled in a 'central Tokyo site' sometime this year. It would be nice if it's up (or even unveiled) when we are in Tokyo in mid-June.