Gail Chiasson, North American Editor
A delegation of 40 professionals of Brazil's Digital Out-of-Home business will be out in force at next month's Digital Signage Expo with the aim of being in touch with their counterparts from other companies and countries, participating in seminars, making contacts and exchanging experiences.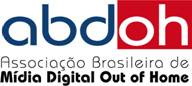 The group visit is being organized by the Brazilian Association of Digital Media Out of Home (ABDOH) in partnership with the U.S. Embassy, through its Department of Commerce, with support from Brazilusa Tourism, and we're looking forward to meeting many of the members during the March 6-9 event in Las Vegas,
This will be a unique opportunity for the group of Brazilian professionals to catch up on what's most advanced in the industry worldwide, to discuss and compare with what's being done in their own country, and to see what ideas may be taken home to be implemented, as well as forging friendships (and perhaps potential partnerships?) with their peers from other countries.
Brazil is already very close to what is being done around the world. Going overseas helps this market confirm that its consumer market is walking at the same time and pace as the international, and that the country is prepared for what is yet to come. This is the moment of maturation and growth of the market, and the big trend is the integration of DOOH screens, mobile devices and social networks. Everyday, this junction is larger, and more options and variations are presented to consumers.
The Brazilian Association of Digital Media Out-of-Home considers the consolidation of partnerships very important to strengthen the DOOH industry. The ABDOH not only participates in international events, but is also a member of the Digital Place-based Advertising Association, New York, which operates in the sector and is intended to enhance industry growth. ABDOH's own main goal is the development and consolidation of Digital Media Out-of-Home, becoming part of people's lives and being relevant to them. Their products' content is designed to reach consumers in accordance with their time and lifestyle, and ABDOH professionals work towards assuring that the installation of each screen will generate attention, convey messages on time and to the right public.
The Brazilian Association of Media Digital Out-of-Home members include the largest operators in the sector. The association's aim is to encourage relations between members and the advertising community, and help disseminate knowledge about the sector, positioning it as a powerful tool in building brands of products and services.
We expect that we will not be the only ones anxious to meet this progessive group during the event.