Gail Chiasson, North American Editor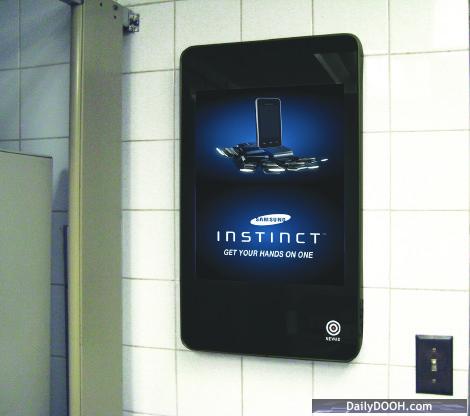 These eBoards are currently up in Montreal, Toronto, Regina, Saskatoon, Edmonton, Calgary and Vancouver and come from a Montreal-based company called NEWAD.
Advertisers already taking advantage of them to date include Bell, Movie Central, Fido, General Motors, and Samsung. All of NEWAD's eBoards, we are told, provide clients with the ability of capturing the consumer's attention with compelling visual animation and sound as well as the flexibility of quick creative changes.
Similar to EzePoster that Adrian wrote about yesterday, these are basically 19" HD LCD screens but this time with some added intelligence and wireless Internet Protocol connectivity.
NEWAD has partnered with sister company NIGHTLIFE Media to produce 15-second clips to be interspersed between advertisements to entertain consumers between ads. NIGHTLIFE Media, targeting 18 to 34 year-olds, is connected to the emerging music and cultural scene and brings together several products that reach an influential community, including nightlifemagazine.ca and its monthly publication NIGHTLIFE Magazine.
"The magazine is 75% French and most known in Quebec although gradually becoming more national in content and distribution," says Gabrielle Dubé-Starkey, coordinator, marketing & communication.
However, the Web sites are in English geared to each city, so much of the content of the new eBoards will be drawn from them.
"The partnership is perfect given that the types of establishments NEWAD selects in its digital network target the same type of consumers that are already familiar with and embrace the NIGHTLIFE Media brand," says Philippe Marchessault, executive vice-president and general manager of NEWAD. "
With the new eBoards, NEWAD now holds a combined national inventory of over 520 eBoards in its Restos & Bars network, representing a 40% growth in inventory over the past year. NEWAD's digital network plans continue to expand and offers inventory in all the major markets across Canada. A four-week national campaign employing all of NEWAD's eBoards generates over 1.1 Million impressions of Young & Affluent consumers. NEWAD's digital network is audited by theCanadian Outdoor Measurement Bureau)
The Digital network adds to NEWAD's indoor advertising product offering of MiniBoards, Electro-Luminescent Boards, BacklitBoards, SoundBoards, BigBoards, Monster Banners, and customized solutions.
"The new eBoards are complementary to the products already in place in our Restaurants and Bars network," says Dubé-Starkey. "We'll eventually phase out some older products and replace them with the new technology."
About NEWAD

Founded in 1995 and employing 350 people, NEWAD offers global communication solutions aimed at the 'Young & Affluent'. NEWAD makes use of a variety of distribution platforms: Indoor Advertising, Event Marketing, and NIGHTLIFE Media. Its indoor network includes 20,000 advertising faces in 2,500 establishments across Canada. The company is a member of COMB, a founding member of the Out-of-Home Marketing Association of Canada and a member of The Canadian Out-of-Home Digital Association.