Gail Chiasson, North American Editor
We've been watching Adcentricity for the past six months – or maybe we should say that we've been watching the evolving space that Adcentricity used to hold in our minds as an aggregator and one of the early pioneers in this field.
One thing we know: location-based marketing is seemingly now its priority and beyond that, we believe that new ownership will be involved shortly.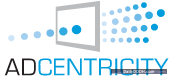 Rob Gorrie, CEO, who used to be everywhere, has been missing from major conferences, not only as a speaker but even as an attendee. Jeff Atley, Rob's business partner, vice-president, and often the company spokesperson, has been keeping his head down. Further, the company hasn't issued any press releases for months.
So what's going on? Well, we've been hearing lots of rumours, and we're not quite sure how they fit into what we already know. We had talked to Gorrie several times over the past few months, and the last time we talked, he said we'd hear the next few weeks. We had dug out the facts that location-based marketing was part of the picture, and that seems confirmed with a peek at the Adcentricity website. In addition, it appears from the website that the company has added several new business partners, although we don't think they are equity partners.
But we've also been hearing that a sale might be in the works. And it seems that any deal is dependent on absolute silence until it's finalized.
We don't know whom any deal is with, if there is one. We've been speculating on who could make an interesting partner or purchaser. Some thoughts come to mind.
DOmedia has a solid database of out-of-home media, digital and static and has some venture capital funding behind it – actually, we believe that there's something going on these days with DOmedia, too, but somehow I get the feeling that it may not actually involve Adcentricity, Ed
Another idea that comes to mind is Trigger Networks, the France-based company that has an interesting means of almost instantaneous buying of campaigns for clients across multiple countries and languages. Last heard, Trigger was compiling a media listing for New York and the U.S. east coast to extend the buying of campaigns in the U.S. for European-based advertisers and vice-versa. Trigger's main person in North America is based in Toronto, and Adcentricity has offices in both Toronto and New York. But Trigger isn't into location-based targeting, as far as we know. (President Vincent Almela didn't answer our recent query.)
There are probably several other companies that would make good equity partners who could buy Adcentricity outright. It could even be a company that owns several DOOH networks (RMG for example?).
Anyway, all we are sure of is that something major is happening at Adcentricity, and with the rumours beginning to swirl, we figure it won't be long before Gorrie and Atley are going to have to start letting the world know.