Adrian J Cotterill, Editor-in-Chief
Rose Displays Ltd., a provider of signware to retailers around the world, has combined forces with technology development firm Kokley, Inc. to launch Rose Digital, a new division focused on helping retailers tap the power of the iPad to create an inspired and revolutionary shopping experience.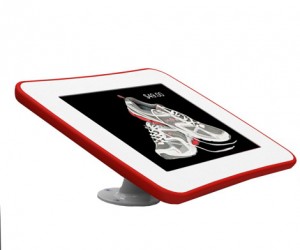 Rose Digital will aim to deliver a fully integrated and turnkey solution that navigates retailers from development to deployment and management of in-store iPad systems. This end-to-end solution includes specially designed iPad signware and full logistical support including provisioning, mounting the iPads in the hardware, kitting and shipping. It also includes robust software solutions developed by Kokley that include ongoing management and analytic systems, as well as customized app development for in-store iPad deployments.
Dean Rubin, CEO of Rose Displays told us "Rose Digital represents an evolution in Rose Displays' business, which now spans both traditional signware and the digital space. Our partnership with Kokley enables Rose Digital to provide the most comprehensive and robust iPad solution available to the retail industry today".
At GlobalShop, Rose Digital will introduce its line of signware designed expressly for the iPad and will also show Smart Room™ and Perfect Match™, two customizable apps developed by Kokley, at the Rose Displays booth, # 3613.
Todd Hoffman, Executive Vice President and co-founder of Kokley added "We are pleased to partner with Rose Displays to bring retailers a powerful way to transform the shopping experience into an extraordinarily engaging and inspired event. Our team combines vast retail experience – more than 30 years of work with the world's leading retailers – and technological savvy so that we can create just the right iPad solution for each retailer".
About Kokley, Inc.

Kokley is a technology development company whose mission is to help retailers create inspired shopping experiences using the iPad® in-store. Kokley is the only company focused exclusively on creating fully integrated, end-to-end in-store shopping experiences using the iPad, enabled by the company's keen understanding of in-store retail, mobile technology and the iPad. Kokley's products include Kokley Complete, Kokley Connect, and a suite of customizable solutions.
About Rose Displays

Based in Salem, Massachusetts, Rose Displays, Ltd. has been a leading developer of retail signware since 1980. The company markets to a worldwide customer base that includes some of the best-known names in retail, foodservice and other major industries. As a value-added partner in crafting signware solutions, Rose Displays offers customized solutions for virtually all visual display merchandising needs, from floors to ceilings, walls, windows, or any place in between, and its new Rose Digital division combines more than three decades of experience delivering smart signware solutions to top retailers with the power of the iPad® to create an inspired and revolutionary shopping experience
.