Adrian J Cotterill, Editor-in-Chief
What ignominy? One minute you are listed as part of the executive team at a major US DOOH network and the next you are simply airbrushed from history!
The http://access360media.com/ corporate web site no longer seems to have its usual 'executive team' section BUT of course (it's silly to remove it) it's always going to be in the Google cache…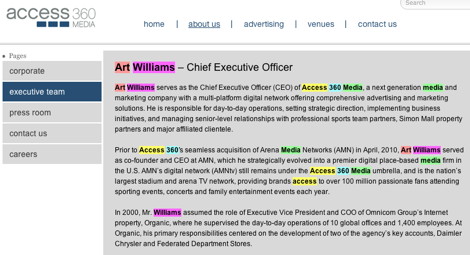 Above is a snapshot of the page as it appeared on 11 Feb 2012 09:33:16. Today that page (and whole section) has gone. Does that mean that Art Williams has gone as well?
It was 18 months ago that we last wrote about Access360Media shuffling their deckchairs and there was a rumour late last week that CEO Art Williams had been asked to leave, together with one other member of his executive team.
Whilst the removal of the 'executive team' section of the web site is not proof positive, we have it on good authority that some form of high level dismissals have recently taken place.