Adrian J Cotterill, Editor-in-Chief
David Wilkins, CEO X2O Media paid us the highest compliment Wednesday at #dse2012 when he told us we had helped inspire his version of a truly interactive twitter wall.
This wasn't any old twitter wall and his creative and technology teams had put their heart and soul into taking criticisms and suggestions that we had previously laid out, see our posts 'MultiTouch Multi-Useless Twitter Wall' and 'Minority Squawk' on how to do a twitter wall correctly.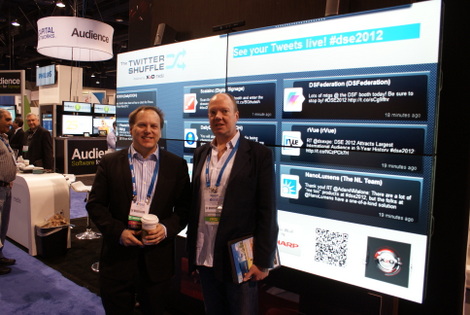 So far beyond the usual 'wall' style implementation, this creation was termed a 'Twitter Shuffle' and had a number of incredibly nice, unique features…
Microsoft Kinect Interface A Kinect box was perched on top of the Twitter Shuffle. Users standing in front of the screen could take control and then manage the screen. Options included left / right, Twitter Shuffle, Twitter Graph and Twitter Map
QR Code Scanning the QR Code linked to and launched a web app that could control the wall
Mobile App The Mobile App that lived in your browser could be used to control the screen in the same way that Kinect could; move left / right, Twitter Shuffle, Twitter Graph and Twitter Map. The app initially registered you on the wall as a GUEST but gave you the option to register and you would then be remembered on future visits.
The thing it was missing but would be easy to add is a touch screen interface. We still feel that the idea of a (Facebook style) LIKE button on top of the twitter interface has merit. This LIKE would be over and above a local RT function (which could also be added if the Twitter Shuffle itself had its own twitter account).
Bottom line. TRULY FANTASTIC interpretation of a classic Twitter Wall.