Adrian J Cotterill, Editor-in-Chief
BrightSign LLC announced this week the results of its recent collaboration with Flixio, one of the exciting content development partners (with more than a decade of experience) coming into the digital signage sector.
For CubeSmart (NYSE: CUBE), a leader in the USD 20+ billion self-storage industry, a BrightSign network combined with Flixio's engaging content provides consistent branding for its locations nationwide.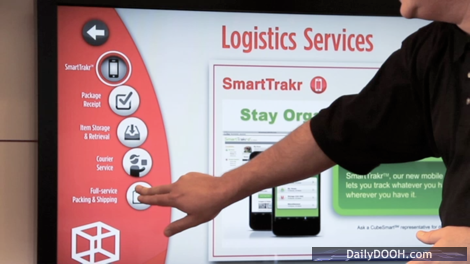 The all-inclusive touchscreen displays (shown above) are designed to help CubeSmart increase sales by illustrating the expanded CubeSmart offerings that are revolutionising the self storage industry.
Following the successful deployment of the signage solution in the lobby of its initial superstore in Philadelphia, CubeSmart is rolling out displays at more than 350 locations across the nation.
With the touchscreen display, a CubeSmart customer, or an employee assisting a customer, can view the many features and benefits that set CubeSmart apart from the competition. They can call up an array of offerings, including enhanced storage options such as individual unit alarms and remote access, logistics services, comprehensive moving assistance, office amenities, and even organisational options such as premium shelving, as well as the industry's first SmartTrakr organizing mobile app by CubeSmart.
Joel Keaton, Vice President of Marketing at CubeSmart told us "Not only does the introduction of the touchscreen display further demonstrate how CubeSmart is reinventing storage, it will also enhance the storage experience by offering tailored advice and information to address the specific needs of each customer in a consistent manner throughout all of our CubeSmart locations nationwide."
About Flixio

As providers of premium digital signage content and integration solutions, Flixio Studios has been producing award-winning video and motion graphics for more than a decade. Located just outside Portland, OR, in historic downtown Oregon City, Flixio brings forward-thinking business acumen to the world of digital signage content. Working to understand clients' goals from beginning to end, Flixio's content engagement strategies and integration solutions ensure the content they create performs flawlessly and has the desired impact.