Adrian J Cotterill, Editor-in-Chief
It's a real shame but it seems that UK media owner City Gateway Media ceased trading last Friday March 8th. The network was run by nice guys and had some very good (and some not so good) digital screens in their portfolio, including the innovative (and I think much loved) Manchester Tower, several screens on the way into London and of course the Thomson Reuters screen at Canary Wharf (as shown below) …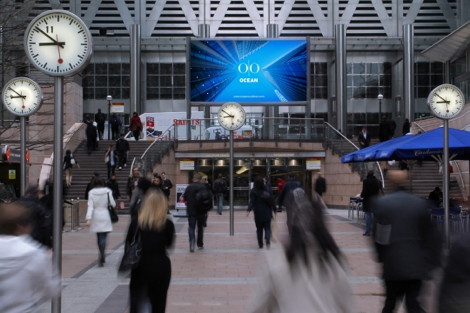 Other media owners have been sensitive to the demise of CGM and not made big announcements about picking up their contracts. Ocean Outdoor could have made much I'm sure that they were quite quickly appointed the sales house for the Canary Wharf Screen (they didn't but it is on their web site now).
With an AB audience of 1.37m per fortnight, The Screen @ Canary Wharf is regarded as one of the most prestigious DOOH locations in the country and of course offers advertisers access to the lucrative City audience that occupies the 14 million square feet of office and premium retail space in the vicinity.
No doubt the screen will play a significant role during the Olympics when Canary Wharf becomes a major cultural and social hub during the period of the 2012 Games and Paralympics.