Adrian J Cotterill, Editor-in-Chief
Ocean Outdoor is launching a campaign to help save artist Yinka Shonibare's (MBE) Nelson's Ship in a Bottle sculpture for the nation – Ocean Outdoor boss Tim Bleakley has already pledged GBP 362,500 worth of outdoor advertising to help secure a permanent new berth for the sculpture at the National Maritime Museum in the new Royal Borough of Greenwich in time for the Queen's Diamond Jubilee celebrations.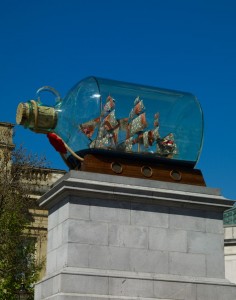 GBP 362,500 must be raised by mid-April or the artwork, which is inspired by Vice Admiral Nelson's flagship Victory and appeared on the Fourth Plinth in Trafalgar Square in May 2009, is in danger of being bought by an overseas private collector and disappearing entirely from public view.
So far the public campaign has raised in excess of GBP 150,000.
Ocean's campaign invites supporters and the public to text SHIP to 70555 to donate GBP 5 towards the campaign. The campaign breaks this week across sites including the Two Towers East, Eat Street and Hammersmith Broadway (P10).
Ocean Outdoor CEO Tim Bleakley said: "Shonibare's scale model of Nelson's Victory has proved one of the most popular of the fourth plinth commissions, but its future is in doubt. It really is all hands on deck to help save this contemporary tribute to a great British icon in what is a very British year".
He added "As a business that has built its reputation on The Art of Outdoor, we are matching each GBP 1 needed to save the ship with GBP 1 in media. Hopefully in the year of the Queen's Jubilee and the London 2012 Olympics people will get involved and match each GBP 1 for GBP 1."
The fundraising campaign is being led by the Art Fund, the UK's leading independent charity helping museums and galleries to buy and show art.
The Art Fund gave a GBP 50,000 grant to kick start the effort to site Shonibare's sculpture permanently outside the new wing of the National Maritime Museum in Greenwich which houses the largest collections in the world of both ships' models and historic material relating to Nelson.