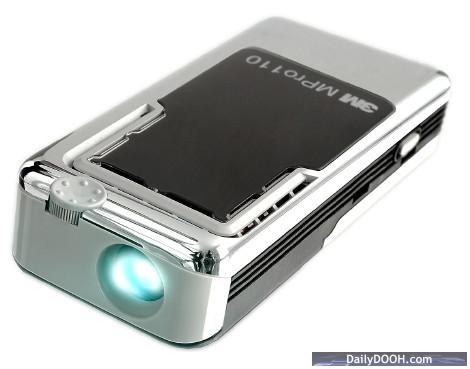 A tiny handheld micro projector from 3M, the MPro110 received the Crystal Disc (best product) award at INVEX, International Trade Fair of Information and Communication Solutions for Business Development, held in the Czech Republic in October and we are looking forward to seeing it for ourselves at ISE 2009 next February.
3M are on stand #10I144 and highlights include this tiny handheld micro projector for the business traveler market, various short-throw projection systems for classrooms and conference facilities, and rear projection technology for high impact, digital advertising and signage applications.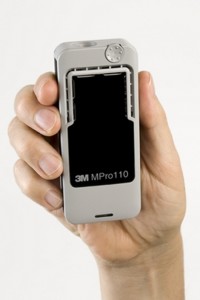 The MPro110 is comparable to the size of a Smartphone, weighs just 152 grams and measures 115 x 50 x 22 mm.
It is, we are told, easily connected to a laptop for instant large screen projection on nearby flat surfaces such as walls or ceilings. Photos, video clips, presentations and other visual media can be projected from 5 inches up to 50 inches diagonal AND rather cool though is the fact that the micro projector can also connect to a range of other digital applications such as multimedia mobile phones, iPods, digital cameras and games consoles 😉
It's squarely pitched at business travelers who deliver a lot of presentations but do not want to carry bulky desktop projectors around with them and it's obviously particularly useful for giving impromptu sales pitches to customers while on the road or in a last minute meeting.