Adrian J Cotterill, Editor-in-Chief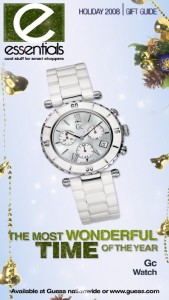 Adspace Networks continue to give their malls the sort of content we think they, their retailers and consumers really want. Without a doubt Adspace are the one digital screen network mall owner really thinking with their customers' hat on and their breadth of good content continues to amaze us.
Even their press release was apt, easy to read and light hearted, it started…
NEW YORK, December 2, 2008 – Between cooking and cleaning, wrapping and caroling, who doesn't want a little extra help with their holiday shopping? With the launch of the 2008 Holiday Essentials Gift Guide, Adspace Networks is easing consumers' shopping woes with tips on the latest retail and fashion items on its digital billboards in malls nationwide.

'Essentials' of course was launched earlier this year and we have written about it before – this time around it is basically a collection of seasonal items selected by Editorial Director and fashion and beauty expert Warren Christopher.
In time for the holiday rush, the 12 new editorial segments are featured now through 31st December on their Smart Screens. Some of the featured products include items from Samsung, GOLDTOE, Origins, Gordon's Jewelers, GUESS, Movado, Godiva Chocolatier, American Eagle Outfitters, aerie and Clinique.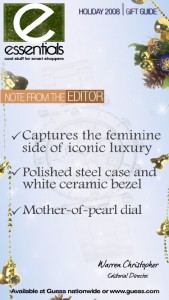 Warren Christopher told us "The 2008 Holiday Essentials is the debut of our annual gift guide. We want to give shoppers some smart, fun and affordable gift ideas that won't break the bank. Different from our Today's Top Ten content, which shows shoppers the top sales promotions in the mall, Essentials highlights the trends of the season and offers gift ideas."
The editorial content is reminiscent of a trend-watch page in a consumer fashion magazine, only it has dynamic and engaging audio and visual elements. Complete with fun, creative tips that embrace the holiday spirit, Adspace's Holiday Essentials integrate helpful product information and shopping tips. The use of iconic holiday phrases throughout each segment captures the essence of the holiday season.
With over 100 million consumers expected to visit Adspace malls this holiday season, the network offers an efficient way to cost-effectively navigate the mall while keeping up with the latest trends and styles of the season.