Gail Chiasson, North American Editor
This month we welcome Felipe Forjaz who is the founder and CEO of Elemidia Group, based in São Paulo, Brazil.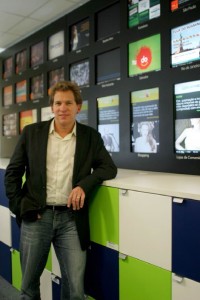 You have 7,000 screens in eight different sectors. Where do you see the greatest growth potential?

In Brazil, as cities are growing and getting more vertical, corporate buildings are still an interesting opportunity for growth, especially in a venue where Elemidia has an absolute dominance. However, other venues such as shopping malls and supermarkets are showing excellent acceptance by agencies and advertisers.

Elemidia was bought last year by the big publisher Editora Abril. What has that given Elemidia?

As a part of the main publisher in Latin America, Elemidia has gained access to the large variety of segmented content that allows customization to each venue where we are present, preserving attention levels and improving relevance among our audience.

You have started expanding into Argentina which is a large country with little Digital Out-of-Home. What is your growth strategy in that country?

Expansion in Argentina (our first international franchise operation) pretty much follows the steps taken in São Paulo in the past, which consists of offering a relatively interesting coverage at first in corporate buildings, while educating agencies and advertising on the advantages of DOOH.

I read on your website something about '40 integrated titles' – perhaps a bad translation. Does this have something to do with targeting with 40 types of content or? Can you explain?

Definitely a translation issue! Today, we have access to 50 out of the 53 magazine titles published by Abril. We have started with the 40 main magazines, but as the program of each channel is being revised, more titles have been incorporated.

Today, our content considers the venue and the time of the day, featuring, for example, more business-oriented content at gyms in the morning, while offering a more teenaged content later in the day.

It seems that most of the DOOH industry in Brazil speaks only Portuguese. Does that limit their growth or growth of the industry as a whole in South America and/or worldwide?

Although language may be a barrier at first, certain cultural traits are common in the region. For example, a major French retailer has recently started to advertise with us in Brazil, after a successful experience in Argentina. Moreover, it is easy for us to seal a local content partnership.

You had 86% growth in Dec./11 over Dec./10. To what do you attribute that growth? Can such growth continue?

First, more and more agencies and advertisers have incorporated DOOH on their media plans. They have already tried and tracked the results Elemidia can offer. (In 2011, we have been elected OOH Media of the Year for the fifth year in a row).

Second, as we increase the number of venues where we are present, the market sees us as a one-stop solution to reach their consumers wherever they are.

And last, a larger and better trained sales force also impacted the results in 2011. We anticipate growth will continue at a healthy double-digit level.

There has been some consolidation in DOOH in Brazil in the past year. Can you talk about this and whether you see this as a continuing trend? Where do you foresee further consolidation?

Brazil's DOOH industry is definitely experiencing a consolidation trend, as the advertising industry demands higher standards which cannot be matched by smaller players. We believe that this will continue to the point three or four major players will find a balance between regions and venues explored by each one. There is the potential for operational and commercial strategic alliances.

I believe you are located in Sao Paulo – a city with no signage whatsoever. Is it frustrating to be unable to show your products in you own 'home town'? How do you deal with it? Are other South American cities trying to follow suit?

São Paulo city has a ban on outdoor out-of-home advertising, but since Elemidia involves indoor privately-owned environments, we are not affected by this ban. São Paulo is our major market and is likely to remain in this position in the next years. Other cities are following Sao Paulo's example and establishing a more organized approach to outdoor out-of-home media.
What are your aims for 2012? Tell us about your growth strategy.

Following the continuous expansion of corporate buildings, we'll increase our penetration in cities where we are already present, while also exploring mid-size cities that are gaining relevance in the scenario. Besides, shopping malls and supermarkets are also in our radar.

Do you partner with other companies – if so, whom – for content management software and other needs, or is everything handled in-house?

Elemidia has developed a proprietary system recognized for its excellence and unique set of attributes. It is the only system that offers an independent audit of all media exhibited, certified by PricewaterhouseCoopers. It also offers full integration with Oracle ERP systems

Do you manage all your networks from a central location. or do supermarkets, hotels, etc., manage their own networks?

We do manage all the networks from our central location, based in Sao Paulo. Nevertheless, we have maintenance teams in each city we are present, allowing a fast response to any problems detected in a network.

What is the advertising business like in Brazil? Since your company is one of the biggest in DOOH, are your networks easy to be part of agency plans, or is it a struggle?

DOOH is the fast growing media in the past five years, growing faster than online in the period. Brazil has a particularly strong dominance of broadcast TV, which alone accounts for 63.3% of total advertising investment in the country. In spite of this, as major advertisers adopt Elemidia to complement their media plans and increase frequency levels, more agencies integrate our network into their plans.

What kind of measurement do your networks use?

We are the only DOOH operator offering an online checking certified by PricewaterhouseCoopers. Annually, we measure attention and advertising recall, comparing the results with those obtained by broadcast TV. Consistently, we are being able to match the recall results of major TV advertisers amongst those exposed to one of our networks.

Does Elemidia have plans to expand globally? Will we see you showing your offerings at trade shows? Where do you see Elemidia in five years time?

At first, we see our expansion moving towards the major markets in Latin America, but we are open to opportunities in other markets, like the US.

What is the biggest thing that the 60 ABDOH delegates took away from Digital Signage Expo held recently in Las Vegas?

It was impressive to realize how advanced Brazil is, in terms of technology, penetration amongst the major advertisers and in services provided to the market. For example, we haven't seen a certified online checking service being provided by any other operators.