Gail Chiasson, North American Editor
With Near-Field Communications expected to become more commonplace as it is incorporated into more mobile devices than ever before, and is increasingly adopted for everyday usage, Clear Channel and Posterscope commissioned an in-depth research study into the perception and adoption of the technology.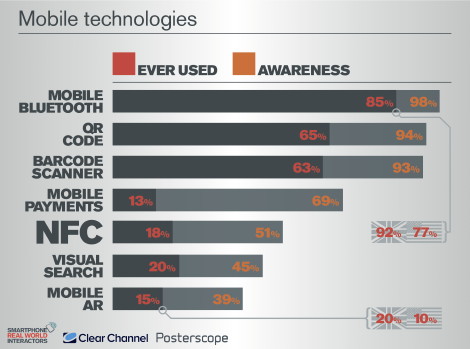 The study, to find out more about how, where and why consumers interact with NFC in context of Out-of-Home media, was conducted in Feb./12 in the US and UK. It consisted of almost 1,000 online interviews with smartphone owners who had used at least one of the following seven technologies on their devices: Quick Reader (QR) codes, Mobile Bluetooth, Barcode Scanner, Augmented Reality, Visual Search, NFC and Mobile payments. In addition, half of the respondents had used at least one of the technologies to interact directly with advertising.
Some of the key findings were:
The general public need to be educated on the technology. The research demonstrated that 60% of smartphone owners were unsure whether their phones were NFC enabled or not. However, awareness of NFC technology itself was higher;
When NFC was demonstrated, the number of respondents who stated that the importance of having NFC functionality on their next phone doubled from 36% to 70%;
88% of respondents stated that they would consider using NFC technology to interact with posters that interested them. The top reasons given for interaction with NFC-enabled posters were 'downloading vouchers/special offers', 'getting local information', 'easy access to web content' and 'comparing prices';
57% of respondents' stated that if they saw an OOH advertisement that interested them, they would be likely to use NFC for purchasing. This applied to multiple product categories.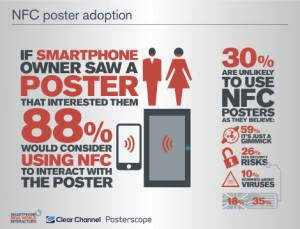 Emma Newman, director of marketing, Clear Channel, says that the company worked with Posterscope on the joint research to get to the core of what consumers think of NFC.
"What is clear is that, although NFC has broad awareness, consumers are seeking more detailed guidance on its potential," says Newman.
"This research gives us great insight into where consumers stand currently – hence enabling us help clients and brands to address consumer needs."
Posterscope Out-of-Home communications agency has 48 offices around the world and buys over $2.1 billion worth of out-of-home advertising space per year. James Davies, chief strategy officer, Posterscope, says, "There have been lots of forecasts and research around the proliferation of NFC-enabled phones but very little regarding consumer adoption and what might motivate them to use NFC. This study shows that once the benefits of NFC are clearly explained, there is an appetite from consumers to interact with NFC enabled posters to connect, share, download and even buy using this technology"
The research was conducted by Dipsticks Research, Hexham, Northumberland, in the UK and uSamp, Encino, California, in the USA.