Adrian J Cotterill, Editor-in-Chief
OTA Training, the creator and producer of the NFC Bootcamp™ series is all set now to hold its first international Bootcamp at #Screenmediaexpo in London (something we suggested and lobbied for).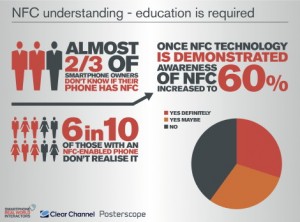 The NFC Bootcamp will be presented on Wednesday, 16 May and Thursday, 17 May 17 2012 and will run from 9:00am to 5:00pm each day.
As a special feature of this inaugural European NFC Bootcamp event, the NFC Showcase™ will be located right on the #Screenmediaexpo trade show floor where attendees from both events can experience first-hand how NFC works from the world's leading NFC companies.
Sponsors of the Bootcamps include some of the best of breed NFC ecosystem companies such as Device Fidelity, Identive, ACS, Cellotape, Blue Bite, Mobile Monday Seattle, Maxim, NFC Jobs and supporting organizations like ourselves, The Smart Sense, EMF and ScreenMedia Weakly.
Robert Sabella, CEO & Founder of OTA Training told us "Near Field Communication will change forever how consumers engage with digital media. There is no better place to come and understand the impact this technology is going to have on the industry than at Screenmedia expo. We are very pleased to launch our European expansion in conjunction with this great event. It demonstrates the continual commitment that the Screenmedia expo has in bringing the most important and relevant technology developments to their attendees."
Mark Pigou, show director, Screen Events Ltd, said of the NFC Bootcamp that he was very pleased that these two events could be co-located.
To register for the NFC Bootcamp, visit www.nfcbootcamp.com – be quick as space is limited for this inaugural event.