Gail Chiasson, North American Editor
The Times Square Advertising Coalition has announced a new program, 'Times Square Moment: A Digital Gallery' to bring creativity, energy and cutting-edge graphics and digital art to the world's center of communications each day.
For the first time, a dozen signs surrounding Times Square have come together with Times Square Arts to exhibit dynamic, high-quality art at a regularly scheduled time each day at this 'Crossroads of the World'.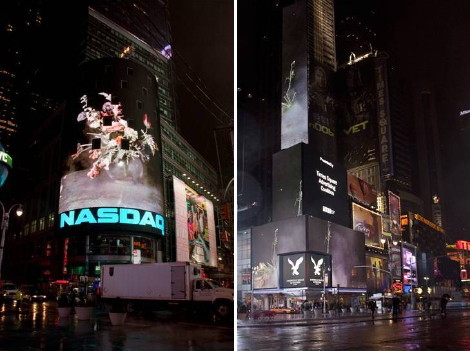 The program is currently in previews, featuring 'Big Bang 01' by Ori Gersht. Screenings occur every night at 11:57 pm. Additional screens and times are being added over the coming weeks, leading up to an official program launch on May 1, featuring renowned experimental theater artist Robert Wilson.
Participating Signs include: ABC Super Sign; American Eagle; Clear Channel Spectacolor (location); Disney; NASDAQ; SL Green Realty and Orange Barrel Media (signs on 1515 Broadway); and Thomson Reuters.