Adrian J Cotterill, Editor-in-Chief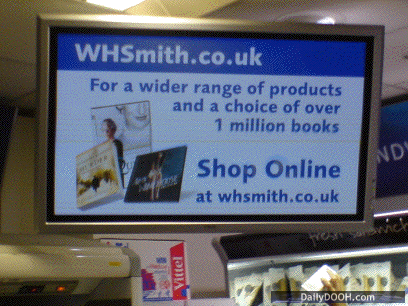 WHScreen is a network I often used to use in my presentations as a 'great little network' – nice niche, no scale to date but a great bunch of start-up guys driving it forward. I haven't blogged about it much as very little news comes out of the business (how true of so many DOOH startups) and it is not a network I bump into (see) that often.
WHScreen is installed ONLY in WH Smith travel hubs – that is, WH Smith retails stores in airports, railway stations etc.
I saw two very nice 42″ screens at the WH Smith in the UK and Ireland BAA LHR Terminal 1 Departures gate on Wednesday. As always a nice mix of news, product placement and branding. The screens are well positioned, easily seen in the store and when standing at the till.
I understand that WHScreen has now been installed into 5 stores in BAA's new LHR T5 although switch on of course is not until March 2008. Installation was straight forward with non of the shenanigans of vendors being thrown off site like with the World Duty Free rollout.
Including these 5 new venues, the total network size now stands at 27 stores (96 screens).
Not a huge network by any means but a nice retail niche and someting that I know WH Smth are very proud of and pleased with.
Would you believe that the WH Screen network will be 9 years old in 2008!
abc media have been doing national branded sales on the network.
Liquid Digital, the guys behind the WH Screen network have also been doing some content work for a number of other networks and have produced some good content for some major brands. They have for example just created an ad for an FMCG product to run on the Harrods screen network.
Also working with Coca Cola, they produced a short 5 second ad for Coke Plus which can be seen on their content website at http://creative.liquiddigital.tv/