Adrian J Cotterill, Editor-in-Chief
No busses this time around we think (and only one of the three; 'Planes, Trains and Automobiles' despite the title of this post) but we hear there will be plenty of other vehicles on display on the show floor at #ScreenmediaExpo.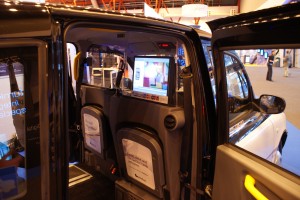 Yesterday we heard more about @AOpenEurope's plans for their 'Digital Signage Roadshow' around the UK which kicks off in May in London at #ScreenmediaExpo.
It's not a van as we first thought but a 7.5 ton truck that is currently waiting to be vinyl wrapped in a top secret, hidden location somewhere in the UK.
Also on display at Earls Court will be not one but two Verifone Media taxis (shown above) that were unveiled to the public at last year's show, one iTaxiTop from Eyetease media and several DigiAdvans from iDOOH Media Group (nee SA Media Group).
All of which will help break down the monotony of the square booth!