Manolo Almagro, Q Division Managing Partner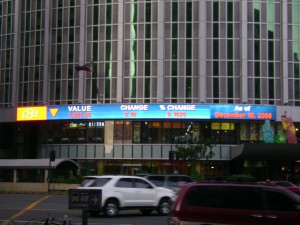 One of South East Asia's leading DOOH companies – Globaltronics Inc, in partnership with The Philippine Stock Exchange and building owner Insular Life recently installed South East Asia's widest digital out of home LED ticker.
This custom built Daktronics display supports HD resolutions and measures 1.5 meters by 30 meters (approx 4.9′ by 98.5′ feet) and is located in what locals call the "Times Square of Manila's business district" due to the fact – the average daily viewer traffic amounts to about 1 million viewers per weekday (combined automobile & pedestrian traffic)
In my opinion, Globaltronics is the poster-child for successful DOOH companies in the Asia Pacific region, they engineer and operate several Outdoor LED billboards thoughout the region, provide content and network operations for high profile clients such as McDonald's, SM, BDO and Watson's.
Globatronics leverages Scala as their digital signage platform of choice – which also explains why they can also offer off-shore content services for Scala powered networks in the US.
Here are the highlights from a discussion I had with Val Munoz, the General Manager of Globaltronics – specifically about his most recent project: –
Manolo: "How much did the LED system cost? – What's the revenue model
Val: " the total project cost was approximately 45 Million Pesos (or about 1 Million USD) since we aren't allowed to sell advertising on the sign at this time. We (Globaltronics) will be selling corporate sponsorships for each news category (as in "Traffic brought to you by…") which will be displayed at the begining and end of each feed."
Manolo: Considering that the Philippines ranks no. 1 in the world for SMS/text usage- will you be adding any mobile phone interactivity to the sign?,
Val: "there are some upcoming sponsorship campaign is in the works- where viewers can send SMS messages to friends and participate in interactive polling questions such as "how are you feeling today?" -which will then present viewers an option to vote (a) happy (b) sad (c) frustrated (d) excited. Considering that there's alot of traffic congestion in the area, I imagine that we'll see some very interesting mood swings."

Manolo: I've heard that this sign tells the future, how did you manage to engineer that?
Val: "The sign displays Philippine stock trading information, local news, weather and traffic advisories-  however – due to the time zone differences (Manila is +8GMT or +13hrs Eastern Standard Time) the LED sign actually shows the RSS-feeds of the US Stock Market Indicies well ahead of when the financial news is published in the local newspapers. So, as an example, – The "future" stock quotes are shown on Monday night, but the newspaper won't be able to publish them until the following morning edition. – So, in a sense- it is the "future" by traditional newspaper standards.