Gail Chiasson, North American Editor
The morning session of Day One of Digital Brand Activation: A Place-Based Strategy (who thinks up these long titles anyway?) in Toronto Wednesday left me rather conflicted as to whether attendees were getting the type of information they were expecting – a feeling that was corroborated by several persons with whom I spoke.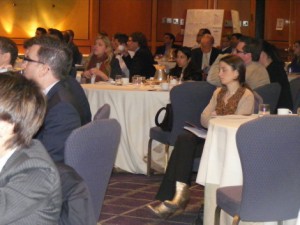 Not that the speakers weren't good, I just wondered whether we were ever going to really hear discussions on digital out-of-home/digital place-based as opposed to the mobile/social integration sector.
With an audience that included some agency people who admittedly never get to attend trade shows to see what's new and various other attendees who were anxious to learn what was new and trends that can affect brands in the DOOH sector, it took until the afternoon sessions before we even saw some visuals or heard much discussion on some of what's available and how they are being used.
Some people to whom I spoke had never heard of any of the major software management companies, let alone such Canadian-based ones as Broadsign and Omnivex.
In fact, I kept feeling that a small series of exhibits outside the conference hall could have been really interesting for attendees to actually experience in real life things they may have heard about: facial recognition, glasses-free 3D, NanoLumens (or similar) different type of screens, gesture-based walls or the like come to mind, and how they could be used to build brand awareness, lift brand sales and more.
Nevertheless, there were some solid interesting and a few entertaining comments – and bits of news – from speakers throughout the day.
Here are some that we noted:

David Payne, CEO, Kinetic Americas, New York
"While agencies need as much data as they can capture, they also must transition their own skill sets as well as work with advertisers and networks as partners."

"How many dollars are left on the table because of inadequate data?"

Asif Khan, founding president, Location-Based Marketing Association
"40% of consumers who 'opt out' online want to 'opt in' where they can get mobile offers".
"We've seen a trend where retailers who were interested in social media apps are now more interested in having their own apps. And they are less interested in discounting apps and more interested in the role that content plays in rewards."

Glenn Hollis, vice-president marketing and brand advertising, Tim Hortons
"We see Wi-Fi as an opportunity. We're putting it in all Tim Hortons."
"We have a survey in place tied to QR codes."
"Coupon delivery is still a big challenge for us."
Jenny Thompson, director of social media, digital and CBM, marketing communications, Rogers Communications
""Rogers has applied to becoe a bank because it is interested in the mobile wallet."

Tony Johnstone, senior vice-president, director of strategic planning, DDB Canada
"Word of mouth has been replaced by word of mouse."
"As an agency, we are proving that communication that is willingly shared around has a greater commercial effect than communication that is not shared."
"People only share if they care."

John Sheehan, senior director, integrated media, NEC Display Solutions
(causing one of the few laughs of the day) "It hurt missing out on the Tim Hortons contract – but I still had a Time Hortons (coffee) this morning."
Cathy Fernandes, president and COO, Zoom Media
"Contextually relevant doesn't just mean aligning the content. It's also about the environment, the mindset, and the content itself."
Paul Lindstrom, senior vice-president, Nielsen Media Research, Nielsen OnLocation
"It's important to define the value proposition. I'm not sure there is one yet on this industry."
"Recency – the last message you see – can be the most significant in brand decisions."
"Our measurement is exportable. We're introducing it with Zoom and Captivate, and are in discussions now with other Canadian networks. We expect more will follow."
Bruce Rosen, director, marketing and communication, Volkswagen Canada
"In 2006, our digital budget was 6% of the total. In 2012, our digital budget is 30%."
In terms of this latter, we asked Rosen how much of that 30% is DOOH/DPB. Turns out that it's only 7%-to-8%. As so often happens in Canada, when people hear the word 'digital', they automatically think and/or include online.