Gail Chiasson, North American Editor
San Diego-based ecoATM (formerly reMobile), established in 2008 and particularly known for its commitment to the environment and its innovative kiosks that automate the buy-back of used mobile phones and other used portable electronics directly from consumers, has closed a series B investment round of approximately $17 million.
Current investors Claremont Creek Ventures, Coinstar Inc. and TAO Ventures all increased their investments while new investors include PI Holdings, Moore Venture Partners, AKS Capital and Singapore billionaire Koh Boon Hwee.
In addition, ecoATM announced it has been awarded a Phase II grant for up to $1 million from the National Science Foundation.
The company, which has installed its kiosks in malls mainly in California, Washington State and Nebraska, is poised for significant growth, says Randy Hawks, managing director, Claremont Creek Ventures.
"The ecoATM kiosk system is already inspiring mass participation in electronics recycling and resale because unlike other options, it provides convenience and immediate cash incentive for consumers," says Hawks. "ecoATM has already begun to forever alter the extremely wasteful life-cycle of consumer electronics in the US."
Tom Tullie, ecoATM's chairman and CEO, says that the next step is expanding ecoATM's footprint to the rest of the US.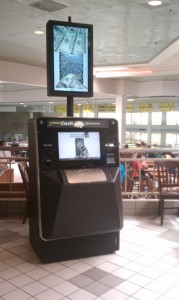 "The new funding will enable mass commercialization and a national roll-out," Tullie says.
ecoATM is believed to be the first company to create an automated self-serve kiosk system that uses patented, advanced machine vision, electronic diagnostics, and artificial intelligence to evaluate and buy back used electronics directly from consumers for cash or store credit.
ecoATM's eCycling stations provide a convenient trade-in solution that:
electronically and/or visually inspect virtually any consumer electronic device;
connects consumers real-time to broad worldwide secondary markets ensuring best pricing;
pays consumers immediately in cash;
automatically administers trade-in / trade-up promotions for retailers and manufacturers.
ecoATM works with armored car services, such as Garda and Brinks, that service the cash in the ATM portion of the kiosks but also pick up the phones and ship them to ecoATM. They even do light maintenance on the kiosks.
"These companies did not previously offer this kind of diversified service before but we were able to work with them to train the staff to do these extra functions for a slightly higher fee," says Anita Giani, media spokesperson. "It works out nicely for both parties."
The automated kiosk provides:
an efficient, ubiquitous, collection system that incentivizes consumers to recycle an estimated one billion displaced phones;
a turn-key solution that complies with eWaste regulations, fully automates the take-back and reverse-logistics process, and manages incentive rewards programs for electronics
retailers, OEMs, and wireless carriers.
The ecoATM team has four US patents issued and 11 pending. Team inventions and intellectual property include: Kiosk Systems, Electronic Recycling Kiosks, Communications Systems, Mobile Content Management and Discovery, and Semiconductor Devices.
The current drawer-bound cache of one billion phones is estimated to have a total value of as much as $12.2 billion if they were to be recycled. Recently displaced handsets less than two years old retain an average value of $18 each at collection and before any refurbishment, and an average value well over $50 once refurbished. Phones more than two years old that still have a vibrant aftermarket retain an average $2 value at collection and over $25 average after refurbishment. The remaining phones, generally considered 'end of life', are worth roughly $.75 per phone when smelted down to reclaim precious metals and hazardous materials.