Gail Chiasson, North American Editor
We've just received more information on NCR Netkey's wayfinding solution, mentioned last week, which was recently deployed at the three terminals of Dubai international Airport.
The 40" touchscreens replace the traditional information desks and act as one-stop shops that instantly provide information on all the airport's services and facilities, in real-time and easy-to-understand directions.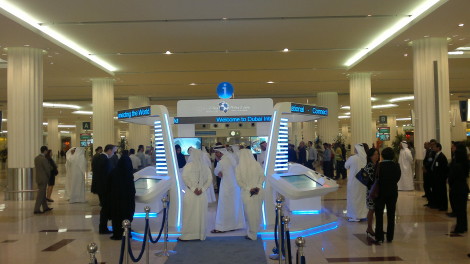 In addition to being multilingual in Arabic and English, the wayfinder solution also provides current flight information and other airport info. Travellers can simply walk up and swipe their boarding pass under the 2D-barcode scanner, and it shows them where their gate is, and the best path to get there from wherever they are.
Designed by local boutique Almax Design, the information zones also have new static maps with which passengers can familiarize themselves with the layout of the terminals and locate all retail, food and beverage and entertainment services. Printed map cards are also available at these kiosks.
In inaugurating the new facility at Terminal 3, Shaikh Ahmad Bin Saeed Al Maktoum, chairman of Dubai Airports, said, "Service and innovation have long been the hallmark of Dubai, and form the foundation upon which the emirate's economic success has been built. These new way-finding technologies are just another example of how Dubai and Dubai Airports are maintaining that proud tradition and leading the way when it comes to service."
Dubai is considered the word's fourth busiest airport. More than 50 million people take more than 300,000 flights from Dubai International every year