Gail Chiasson, North American Editor
JiWire, San Francisco-based location-based mobile advertising company, released its latest Q1 Mobile Audience Insights Report today, examining trends in location and mobile shopping, as well as connected-device adoption and public Wi-Fi usage.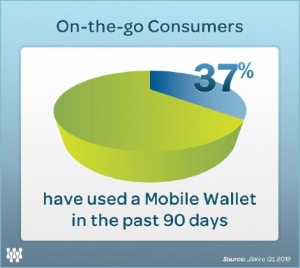 Key highlights include:
Location-Based App Adoption – 70% of C-level executives are using location-based apps on a weekly basis or more frequently;
Mobile Shopping Behavior – 37% of on-the-go consumers have used a mobile wallet within the past three months;
Connected Device Trends – Almost half of the on-the-go audience is connecting to public Wi-Fi from smartphones (31%) or tablets (14%);
Comparison Shopping – When comparison shopping in-store, 49% of consumers compare prices with other stores.
The JiWire Reprt says that the tech-savvy C-Level executive has emerged.
Contrary to popular belief, C-level executives and small business owners have become more tech savvy as they embrace location-based apps and find themselves more in tune with location than ever before.
For example, in addition to 70% of C-level executives use location-based apps on a weekly basis (12%) or daily (52%), 73%of small business owners are more apt to use location-based apps daily (57%) or on a weekly basis (16%).
Other findings include:
Over half of business executives use apps on a daily basis regardless of position or company size;
When traveling for business, the top three most-used app categories are travel, weather, and social networking;
Small-, mid-, and enterprise- level business travelers alike believe that booking reservations is the most important service while on the go, followed by finding nearby business services.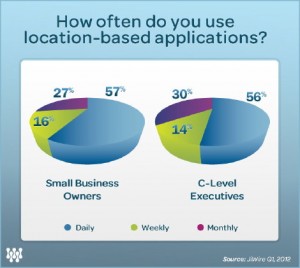 In terms of Mobile Wallet Services, a recent study from Pew Research Centre found that experts believe that mobile payments could eliminate the need for consumers to carry cash and credit cards by the year 2020., JiWire's report discovered that mobile users are becoming increasingly comfortable making purchases on their smartphone or tablet, and are looking to mobile wallet services to fund digital and in-store purchases.
Of the 63% who have not used mobile wallet services, 8% indicate that they would like to and 14% do not know what a mobile wallet is. Further, 46% of consumers who have used a mobile wallet have used PayPal, with 29% having used Amazon and 18% having used Google Wallet.
"This rapid adoption of mobile wallets reinforces that the market is ripe for this sort of technological advance," says Dee Dee Paeseler, director of strategic marketing at JiWire. "Consumers seem to be both comfortable and curious about using their mobile phones to purchase. This trend is likely to help both brands and retailers close the loop on mobile transactions, ultimately taking them to the next level."
In regards to Wi-Fi Usage on Smartphones and Tablets, constant connectivity on these devices is vital to on-the-go consumers. JiWire's Q1 Insights Report discovered that consumers are heavily using public Wi-Fi from mobile devices. Connection from laptops has decreased from 70% last year to a current 55%. Further, nine out of 10 consumers report that advantages for choosing public Wi-Fi instead of 3G/4G on smartphones nclude:
Increasing connection speed;
Avoiding data plan charges (37%), streaming content (17%) or for laptop tethering (7%).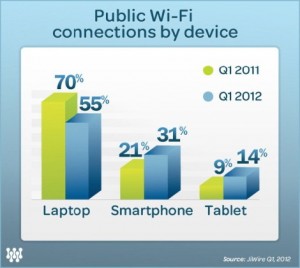 Only 10% of the on-the-go audience indicated that they do not use public Wi-Fi, opting instead to connect with 3G/4G and/or to exclusively use broadband cards.
Comparison shopping on devices remains constant with the main goal of comparing prices, specifically. In Q1, 49% of in-store shoppers price compared with other stores, while 15% compared with the store's own website and 13% searched for mobile coupons.
In addition, the study found that consumers between the ages of 25 and 44 are the most likely to price compare while in store – 54% price compared with other retailers while 19% searched the store's own website. Further, comparison shopping is more popular with men (53%) compared to women (43%).
The Apple iPhone, iPad and iPod Touch remain in the top three spots; however, the iPhone is the only Apple device to see gains in Q1 2012, with a 2.3% increase. The Android OS is the only operating system to see gains between Q4 2011 and Q1 2012, increasing by 3.2%.
JiWire's Mobile Audience Insights Report is based on data from approximately 315,000 public Wi-Fi locations. The report surveyed nearly 2,000 U.S. customers randomly selected across JiWire's Wi-Fi Media Channel from Jan./12 to Mar./12.