Adrian J Cotterill, Editor-in-Chief
Viewpoint 3D announced earlier this week that it will be showcasing its Viewpoint 3D Presentation software on Stand F47 at #ScreenmediaExpo.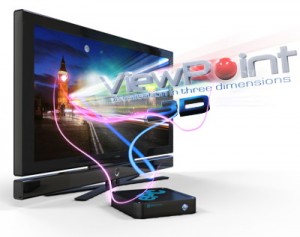 Viewpoint 3D Presentation software is a UK-based technology initiative aimed at offering an easy-to-use studio-quality 3D presentation software for use in the personal, business and digital signage sectors.
We are told that ViewPoint 3D´s software uses the latest advances in graphics processing to enable for the first time the instant creation of 3D presentations with stunning visual effects – it's supposedly compatible with 2D and 3D displays, including glasses-free, so and we quote "users can now benefit from instant studio quality 3D without complications at a fraction of today's cost".
ViewPoint 3D is allegedly unique in that the 3D content in the presentation is not canned, and can be updated instantly, via FTP, database, or RSS feeds for example. Therefore users can create presentations with 3D text, texture-mapped images, video and even 3D models, that change instantly with by-the-minute news, weather or price updates, or whatever data is fed in.
This unique ability offers a major increase in digital signage content quality, and a significant reduction in the cost of keeping content fresh, especially in the case of 3D.
Media players or PCs running ViewPoint 3D can auto-update content on the fly and even directly drive Dimenco´s new 3D glasses-free monitors, offering a complete solution for live 3D digital signage (we are also told that existing 2D screens can benefit from studio quality 3D animations and presentations at a fraction of current costs).