Adrian J Cotterill, Editor-in-Chief
Alex Hughes, Andrew Neale, Joe Cotugno and Adrian Cotterill at #ScreenmediaExpo on the OpenSplash stand…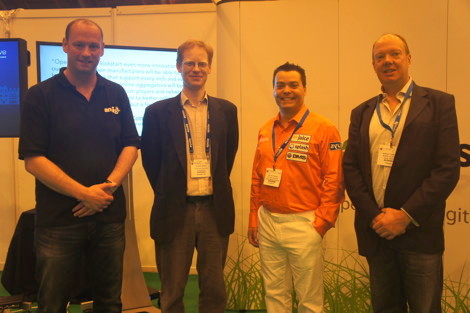 Here are our sleeve notes…
Calum Walker – Apple Mac Pro, organ, Adobe Photoshop, Adobe After Effects, cardigans
Andrew Neale – DE7000 AOpen, Sequential Circuits Prophet 5, DS-220 Advantech, DS-530 Advantech, Moog 3P and Sequencer module
Alex Hughes – Apple MacBook Air, Roland JUNO-STAGE 128, percussion, revx
Stephen Randall – Guitar, Wiffiti, Moog Music Minimoog Voyager XL
Adrian Cotterill – NEC P462, Unicol, NEC X461S, Korg R3 37 Key Synthesiser and Vocoder
Madalyn Roker – artwork reconstruction, flute, electronic drums
The stand was mixed by Adrian Cotterill and Alex Hughes.
Calum Walker and Alex Hughes appear courtesy of Amigo Digital and Lock-on Productions. Madalyn Roker appears courtesy of Ayuda Media Systems. Stephen Randall appears courtesy of LocaModa.
IGCH Ltd would like to thank Simon Jackson and Jatin Bhatt from NEC, Gabrielle Offringa from AOpen, Amir Hashmi from zsah for the use of revx, all at Ayuda Media Systems, Jason Cremins and Marc Benson from signagelive and Bas Smeets from Advantech for all their help in pulling this together.