Loxit Products has announced the launch of their Hi-Lo Multimount All in one Mobile electric video wall lift which will be seen for the first time this week at #ScreenmediaExpo (stand F33)…
Maintaining its universal approach to product development and based on their already successful Hi-Lo® electric height adjustable LFD mobile trolley range, this new design provides an all in one LFD mount system incorporating a 2×2 video wall, aimed at AV integrators, rental and exhibition companies looking for a flexible and versatile multi-purpose mobile solution.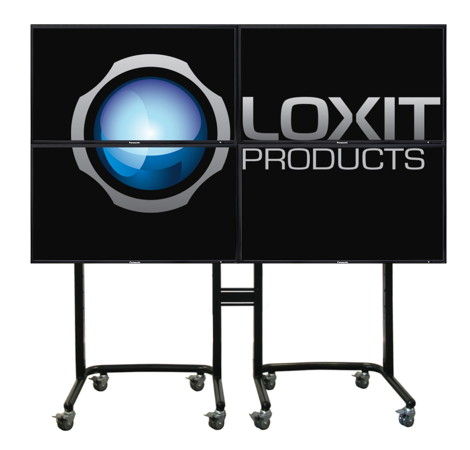 John Whittle, Director of Loxit Products Ltd. told us "We are delighted to be working in conjunction with an increasing number of technology partners to produce solutions which have such obvious potential."
He continued "Creating flexible media solutions that look great and combine the best technologies, coupled with convenience and simplicity of use, like the Hi-Lo Multimount, are what inspire us to continue developing and innovating solutions year after year."
About Loxit

Loxit specialise in four main areas of IT and AV management within the public and private sectors: Mobile devices – Laptops, tablets and devices; charge, sync, store & secure. Large format displays – height adjustable lift mounts, fixed and mobile solutions.
Interactive whiteboard & projector – height adjustable lift mounts, fixed and mobile solutions. Projector wall/ceiling mounts and security products.

Founded in 1996, Loxit Ltd design and manufacture security and mounting products for the IT and AV Industries. Operating nationally and in 17 countries internationally, Loxit have supplied quality products into all areas of the public and private sectors. Loxit's ethos is to deliver beyond customer's expectations with products which are high quality, easy to use and high value for money. Customer satisfaction is viewed as critical to Loxit's success and a heavy emphasis is placed on ensuring all customers receive the best service possible and are dealt with by motivated, experienced and friendly staff.