Adrian J Cotterill, Editor-in-Chief
The network was first promised back in October 2011, see our July 2011 post 'City24/7 To Launch Mid-October' but now it seems it may actually end up seeing the light of day.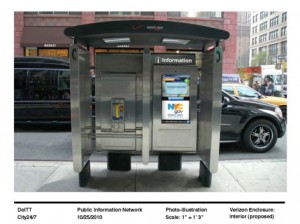 City 24×7's SmartScreen Kiosk Project is replacing old NYC phone boxes with 32-inch internet-connected touchscreens across the city's five boroughs.
The hope is (and it sounds a little like a pipe dream) is that SmartScreens could eventually replace all of NYC's 12,800 aging and little used outdoor pay phones as contracts expire over the next two years.
Pickering's Design Science Corp partnered with City 24×7 in designing and manufacturing the rugged, weather-sealed (but aesthetically-pleasing we are told) smart screen units.
Ralph Idems, Director of Technology of Design Science Corp (yes, that's Ralph of previous Vertigo fame) told us "We understand all the challenges of weather, daylight glare and public usage, and are confident that the integrated system we've developed are not only up to the task, but will be embraced by New Yorkers."
The most recent press release went on to say that the free-to-use touch-screen technology is fully interactive and will display local neighborhood information, including lists of nearby restaurants, store sales in the area, traffic updates, landmark information and safety alerts — in multiple languages.
The network, supported by advertising and partnership, is intended to give New Yorkers and visitors quick access to whatever information they need, and is tied to a related mobile program.
About Design Science

Design Science is a full service product design and development company with specialized experience in deployment of experiential displays including battery powered displays and intelligent kiosks. The Design Science team has over 25 years experience in display design, manufacturing and program management.