There were two special presentations by Cisco [1] during #ScreenmediaExpo: one on the company's research, mainly in the UK, on how to 'Catch and Keep' the customer, given by Lisa Fretwell, senior director, IBSG Retail and CPG, Feltham, Middlesex, UK, and the other on 'Creating Experiences in Space' with examples from various digital media, given by Erica Schroeder, director of marketing, Cisco TelePresence, San Jose, California.
A lot of Cisco's research takes place with the assistance of clients.
John Lewis
[3]
, in particular, was mentioned several times.
Fretwell started her presentation on various trends noted in the retail market, including that physical real estate is in decline; that the mid-market, in particular, is struggling; that there is an Internet-centric behavior (deal-seeking is prevalent); and that it's a cross-channel world.
"More than 35% of European Union consumers touch more than one channel before making a purchase," Fretwell said. "64% of UK consumers begin their shopping by logging in online."
Cisco is particularly working on ways to catch and then keep retail customers from jumping to another brand in their shopping experiences.
"Emotions play a key role, because emotions drive buying decision and don't compare prices," Fretwell said. "Try to spark emotions. Pictures help (eg. on digital screens) and if you make it easy to pay, so much the better."
One of the findings of this year's research was the huge role that customer reviews on retail sites plays in today's 'influencers'.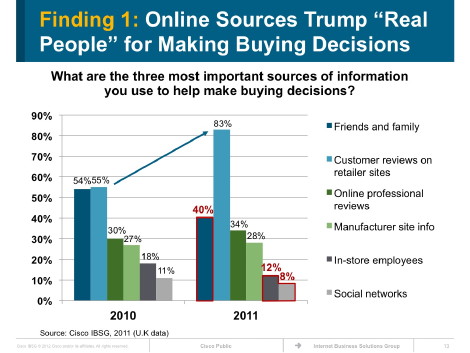 [4]
It was also noted that use of good digital content and experiences with same (touch, coupons, videos, buying guides, kiosks, and more) can influence all the buying triggers in consumers. Mobile is becoming increasingly vital for online search in stores. 55% of consumers either use or are interested in connecting to Wi-Fi outside their home. And over 40% of consumers say that video walls and digital screens could change what they buy. Tablet use is also becoming increasing important.
Fretwell showed how Cisco has been testing five specific concepts: immersive experiences; product viewer; shelf help; personal mobile shopper; and shopper favourites. These involve everything from visualizing oneself wearing various outfits virtually (liked by all women and Gen Y men) to using a screen expert to replace bank employees. The research was very detailed as to the type of retail categories these worked best for both in general and in specific niches.
While space doesn't permit us to cover all the details of the presentation, (and I'm sure a lot of retailers would find it extremely valuable) all in all it comes down to the fact that if retailers offer various experiences to evoke emotions and trigger buying, they will grow sales, protect margins, increase loyalty and differentiate their brand. Left to their own devices, shoppers will revert to the best deal and 'find' buying triggers.
Schhroeder talked about how Cisco has changed in a market where video technology is growing in importance and it is forecast that by 2015 there will be 7 million digital signs and 25 billion connected devices.
She gave numerous examples of how Cisco is getting heavily into digital experiences in stadiums; in cities where, eg., digital signage is being used to help engage citizens in their community; where it is being used in banks for training; for route planning for the New York metro and others. Among the interesting projects is Cisco House where, during the Olympics and Paralympics in London, the public will have the opportunity to walk through engaging, interactive, multimedia experiences.
"In any project, we look at digital media management, enterprise content delivery, and digital media players, but nothing works without content and we try to give the best in custom applications," said Schroeder. "We partner with creative agencies and both software and hardware partners, depending on client needs."
Interestingly, Schroeder is faced with the same dilemma as the rest of the industry and ended by asking the audience, "It's not just digital signage anymore. Does anyone have any suggestions on what the industry should be called?"
Photos by Maddie Cotterill