NEC Display Solutions is giving its partners a chance to win a brand new Apple iPhone by simply submitting a picture showing at least one of its current products in use in a working environment at a customer site.
The competition aims to highlight the innovation and creativity of its partners, as well as giving NEC a deeper insight into how people use its displays and related systems.
Images for the Application Picture competition can be submitted across several sectors, namely digital signage, rental & staging, colour, healthcare, future office and education.
Each business partner can submit a maximum of five pictures for each sector. Pictures must be submitted before 31 August 2012, and all entries will be showcased in an online eGallery on the SolutionsPlus partner portal.
"This competition is a great way for our partners to show off the work they do with their customers, and the most creative ways they are implementing our technology. This also gives us tremendous insight into how our products are used, helping to shape future designs and features," said Neil Hartigan, Channel Director at NEC Display Solutions UK.
He added "Not only are participants in with a chance to win one of the most popular smartphone's in the world, but they can also pick up some fresh ideas about how others are using NEC display solutions to benefit customers."
Here's our entry below 😉 taken at VISCOM Frankfurt back in 2010…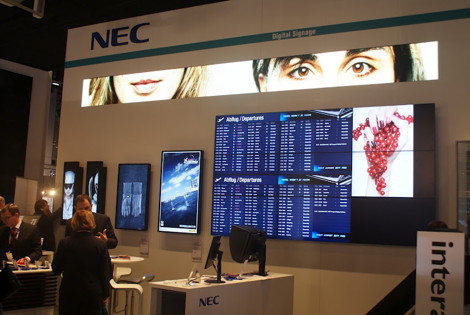 A panel of judges will select the best entry per sector and the winners will be announced in September 2012. Each winner will receive the most current iPhone available at that time.
The file size of any uploaded image must not exceed 10MB and terms and conditions of participation apply.