Adrian J Cotterill, Editor-in-Chief
27 intrepid bikers from the world of media set off today to attempt Europe's classic Milan to San Remo Gran Fondo in Italy, in aid of raising money for Leukaemia and Lymphoma Research (all organised by Kinetic).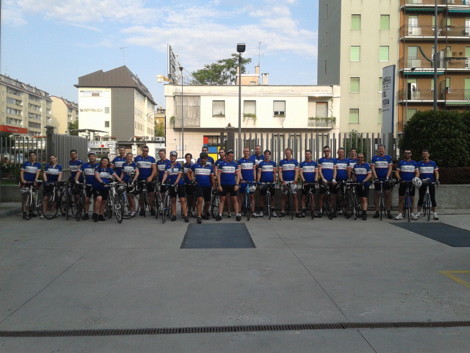 Ranging from the experienced racer to the more steady novice rider, the Fifth Annual Kinetic Cycle Challenge will see the team take on tough inclines as they cross 298 kilometres of Northern Italy, in their longest ever challenge over two days. An increase in female riders this year means the bets are on as the women race the men to the finish line late Saturday afternoon.
The devoted team has raised over GBP 35,000 so far, with many people pledging further donations on the team's completion of the challenge.
James Copley, Kinetic COO UK and keen rider for the fifth year told us over dinner last week during #ScreenmediaExpo "I am looking forward to sharing the pain with a fantastic group of people – colleagues, clients, agency and media owner partners – and everybody has worked hard over the last few weeks to get into shape (there's nowhere to hide in lycra…). If past years' events are anything to go by, there will definitely be blood, sweat and tears – but we do it gladly every year to raise money for a great cause doing some incredible work that makes a real difference to so many lives."
You can follow the riders' progress on twitter using the hashtag #KineticSanRemo BUT much more importantly you can donate here