Gail Chiasson, North American Editor
Montreal's Palais des congrès Will invest $5 million to upgrade its technology in a move to make it one of the most technologically advanced convention centres in North America.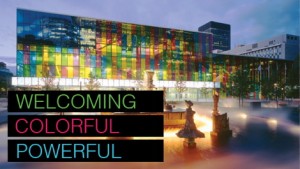 Bell Canada Enterprises and Cisco Systems Canada Co. will provide the hardware and infrastructure for the network in the 1.4 million sq. ft. location.
The move includes improving the Palais' wireless Internet network, increasing its capacity and speed by 10 times its current limit, and allowing up to 20,000 devices to connect to a 1 gigabit per second network.
Cisco will also be behind the Palais' deployment of the addition of 100 digital signs. The 55" touchscreens will direct visitors to events, act as video monitors, and act as interactive guides for visitors.
The centre will also update its website to include an e-commerce feature to simplify the produces for exhibitors to designs their booths, including ordering their furniture and accessories and see how their booths will look on line.
The Palais de Congress will develop and maintain its own content for the digital signage network, using the Cisco DMS tools and its own in-house capabilities. Integration with the website is also a key goal for the Palais.
On the touchscreens, the Palais is in the process of looking at application development options.
The Palais, which hosted 368 events last year, plans to have all the technological changes ready prior to hosting the World Congress on Information Technology, which will attract 2,100 delegates from Oct. 21-27.