Gail Chiasson, North American Editor
A lot of advertising dollars worldwide have been moved to mobile in Q1, 2012, according to Millennial Media's newest report.
In Q1, North America continued to shift ad spend away from traditional media channels to
mobile, notably in the Finance vertical; in EMEA, large OEMs moved significant portions of their communications budgets to mobile, enabling sophisticated and multifaceted campaigns to be developed to launch new marquee handsets; and in SEA, finance advertisers increased their investment in mobile for their advertising campaigns, focused on lead generation for their new products and services.
Other trends noted were that: in North America, advertisers started moving away from content targeting and shifted to buying audiences; in EMEA, automotive advertisers targeted in-market auto intenders and used direct response actions to stimulate test drive requests, while increasing their spend to blend this activity with brand opportunities such as interactive video with social integrations. And in SEA, travel and ecommerce brands targeted post-holiday travelers and shoppers with spend stimulation deals aimed at driving increased mobile commerce sales.
While in North America, app developers made a sizeable investment to promote their existing applications and drive incremental downloads, gaming developers in EMEA with long-term experience in driving mobile advertising success, implemented conversion tracking functionality and re-targeting opportunities within their app download campaigns, to secure greater campaign insight and value. In SEA, mobile is quickly becoming an essential medium for brands, and many brands focused on building effective and sustainable mobile apps in Q1. Brands also drove awareness and reuse of these apps through advertising.
Three main advertiser trends emerged on Millennial Media's platform in Q1: increased mobile advertising budgets year-over-year; advertisers leveraging audience targeting in lieu of content targeting; and developers making ad buys to promote their in-market applications.
In terms of ad campaigns, lead generation/registrations represented 25% of advertisers' campaign goal mix. Brands focused on driving lead gen/registrations used form submissions to gather leads and follow up with consumers about their products or services.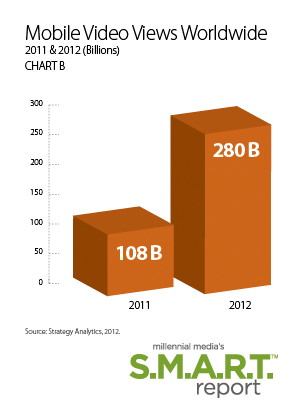 Brand awareness represented 14% of advertisers' campaign goal mix. Pharmaceutical brands targeted consumers suffering from winter cold and flu season with educational campaigns about products that prevent or provide relief from common cold symptoms.
Sports has not been on the Top 10 Global Brand Advertising Vertical ranking to date, but it experienced growth of 287% year-over-year in Q1. Sports advertisers raised awareness of seasonal events by increasing their investment in mobile, running campaigns to increase ticket sales and viewership.
Also, in terms of sports, sports apps nearly doubled quarter-over-quarter, moving up to #6 in the Top Mobile Application Categories ranking. Larger publishers created branded apps around seasonal sporting events, like Super Bowl and March Madness, and enticed users to download their apps by providing real-time updates to sporting events and – in some cases – allowing users to watch games directly on their mobile devices. With the UEFA European Championships in full swing and the Olympics right around the corner, Millennial Media management anticipates continued interest in the sports category this summer.
Travel campaign spending grew 200% year-over-year. And hotel, airline, and tourism advertisers used mobile to target customers with post-holiday getaway ideas and travel deals, in order to boost travel sales during off-season months.
Cosmetics advertisers ran co-branded campaigns with retailers to drive their customers into stores to purchase their products, while alcoholic beverage advertisers ran brand awareness campaigns to drive sales during seasonal events like St. Patrick's Day.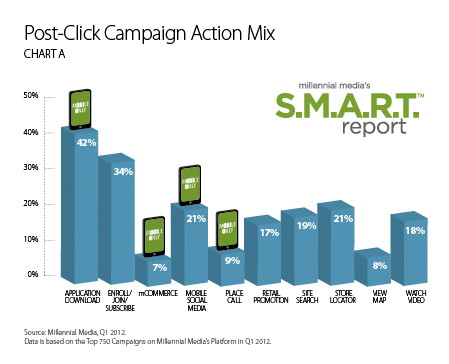 Application download represented 42% of the Post-Click Campaign Action Mix in Q1 2012. Travel was one of the top verticals creating applications that allowed customers to easily book travel on mobile devices. The Entertainment vertical also leveraged application download as a Post-Click Campaign Action to drive downloads of branded applications that allowed customers to watch time-shifted television on their mobile devices.
Mobile Social Media was utilized in 21% of the campaigns in Q1, Retail and Technology advertisers incorporated mobile social media as a post-click campaign action in their mobile campaigns to receive feedback on the new spring fashion lines and new product releases.
In April 2012, Strategy Analytics cited that the Mobile Video Views are expected to grow to 280 billion views this year, up from 108 billion views in 2011.