We know that #InfoComm12 is over, but if you attended perhaps you took a look at booth C7508 where display manufacturer Prysm [1] had partnered with advanced home and building control automation solutions provider Crestron [2].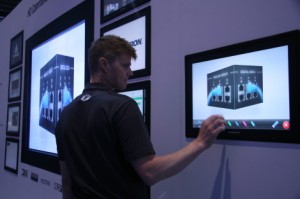 [3]Two cutting edge LPD videowall displays at the booth demonstrated the power of the automation solutions.
Prysm manufacturers revolutionary Laser Phosphor Display technology, which is great for creating seamless and lifelike videowall displays. The Crestron booth featured a 10' wide x 6' tall formation videowall as the centrepiece for the presentation area, as well as a 4' x 4' combination with multitouch capability.
"We are focussed on demonstrating how Crestron brings all your technology and infrastructure together on one platform, enabling anything with a network connection to speak the same language, so every system and device works together seamlessly and can be managed from one view," says Jeffrey Singer, director global marketing campaigns for Creston.
"Having Prysm LPD display technology on the booth enables us to show how videowalls can be integrated into the system in a live exhibition environment."
The presentation videowall formed the backdrop to the Crestron presentation stage where a series of technology seminars have been held throughout the event. The touchscreen demonstrates Crestron's high speed control and collaboration in the Core 3 UI multi-touch experience.